This is an archived article and the information in the article may be outdated. Please look at the time stamp on the story to see when it was last updated.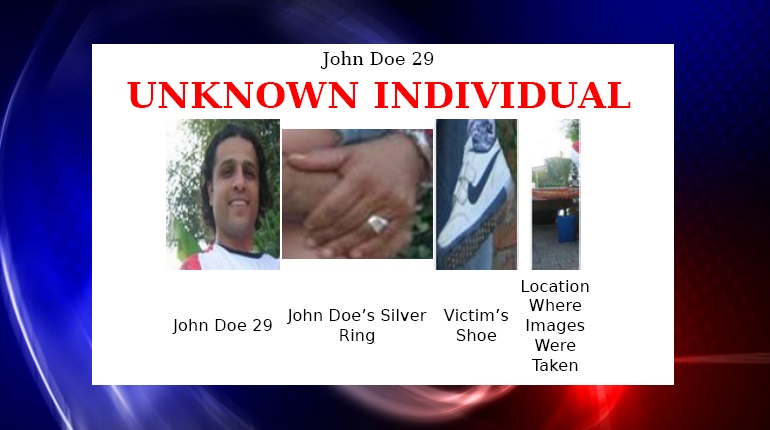 BIRMINGHAM, Ala. – The FBI is seeking information on a man who may have information regarding the identity of a child sexual assault victim.
Tuesday, Special Agent in Charge Roger C. Stanton said the FBI is looking for this man, who may have critical information about the identity of a child victim in an ongoing sexual exploitation investigation.
Photographs and an informational poster depicting the unknown individual, known only as John Doe 29, are being shown to the public and can be found online at the FBI's website.
John Doe 29 is described as a male with a tan complexion, likely between the ages of 30 and 45, with dark hair. He also wears a silver ring on his left ring finger. Images of John Doe 29 were first recorded by the National Center for Missing and Exploited Children in January 2008.  Pictures of the victim's shoe and the location where the images were taken were also released.
The FBI said there are no specific details linking John Doe 29 to a particular state or region of the United States, and both his identity and whereabouts are currently unknown.
Anyone with information to provide should submit a tip online at https://tips.fbi.gov/, or call the FBI's toll-free tip line at 1-800-CALL-FBI (1-800-225-5324).
No charges have been filed in this case and the pictured individual is presumed innocent unless and until proven guilty in a court of law.
John Doe 29 is being sought as part of the FBI's Operation Rescue Me and Endangered Child Alert Program (ECAP) initiatives, both of which represent strategic partnerships between the FBI and the National Center for Missing and Exploited Children. Operation Rescue Me focuses on utilizing clues obtained through in-depth image analysis to identify the child victims depicted in child exploitation material, while ECAP seeks national and international media exposure of unknown adults who visibly display their faces and/or other distinguishing characteristics in association with child pornography images.