This is an archived article and the information in the article may be outdated. Please look at the time stamp on the story to see when it was last updated.
(CNN) - A 23-year-old Milwaukee resident charged with illegally possessing machine guns and a silencer had planned a mass shooting targeting a Masonic temple in the city, the FBI said Tuesday.
Samy Mohamed Hamzeh was arrested Monday after buying two automatic weapons and a silencer from undercover agents, the FBI said.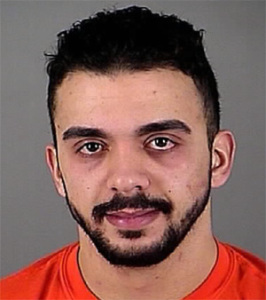 The investigation thwarted an attack "that could have resulted in significant injury and/or loss of life," Special Agent in Charge Robert J. Shields said in a written statement.
According to the criminal complaint, Hamzeh had been under investigation since September 2015, Fox6Now.com reports. The investigation revealed that, in October 2015, Hamzeh planned to travel to Jordan, enter the West Bank, and conduct an attack on Israeli soldiers and citizens living in the West Bank. Hamzeh later abandoned those plans and began to focus on conducting an attack in the United States.
According to the criminal complaint, Hamzeh has engaged in extensive conversations with two confidential sources (referred to here as CS-1 and CS-2). Those conversations, which were in Arabic, were monitored, recorded, and translated by the FBI beginning in October 2015.
During those recorded conversations, Hamzeh explained that he wanted to commit a domestic act of violence and, earlier this month, he settled on a Masonic temple in Milwaukee as his target.
Read more from our Milwaukee affiliate Fox6Now.com.