This is an archived article and the information in the article may be outdated. Please look at the time stamp on the story to see when it was last updated.
Fayetteville Police have arrested a man for his wife's murder on Monday morning.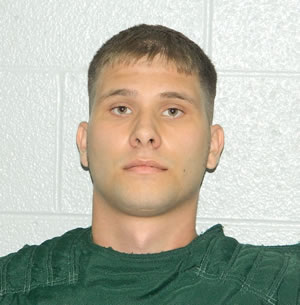 Charles McKinney is being held in the Lincoln County Jail.  He is charged with the murder of his wife, Courtney McKinney.
Courtney was shot Monday morning around 9 a.m. at Taylor Way Apartments on Wilson Parkway.  She was 22 years old.
Police say the shooting was the result of a domestic situation.
The couple moved in just a few days ago with their young child, according to a neighbor.
A neighbor told WHNT News 19 he heard several gunshots, and then saw Charles McKinney run out of the apartment with his toddler.
"I was taking care of my little garden area and all of a sudden I heard shots rung out, I heard the shots like seven times," the neighbor said.  He asked to remain anonymous.
The neighbor said McKinney handed him the young child.
"He's upstairs, comes downstairs and hands me the kid," the man said.  "I said why'd you give me the kid?"
McKinney then threatened to kill himself.  The man says he quickly handed the child to another neighbor.
"I gave the kid to her and in the meantime I was trying to talk him out of shooting himself," the neighbor told us.
The neighbor said McKinney threatened repeatedly to kill himself, holding a gun to his head for more than five minutes before police arrived.
Police arrested McKinney without incident. Fayetteville Police spokesman Joel Massey said McKinney was being held on a $950,000 bond, and that arrangements were being made for the care of the young toddler now left behind.
"It's a tragic day for everybody," said Massey. "The child lost both parents, so it's going to effect this child for the rest of it's life, and it is going to effect this whole family."