This is an archived article and the information in the article may be outdated. Please look at the time stamp on the story to see when it was last updated.
Hawaii Governor David Ige confirmed that an emergency alert about a missile threat to the state was a false alarm. The alert went out Saturday morning, saying there was an inbound ballistic missile threat to Hawaii. The message also told people to seek shelter right away - and that it was not a drill.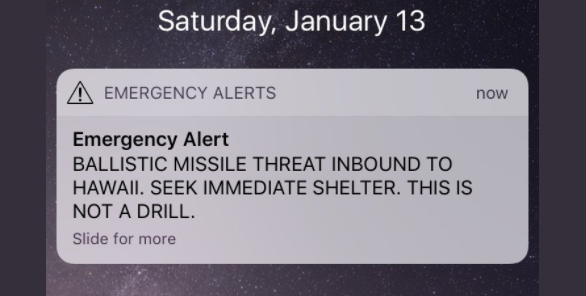 Governor Ige went on to say the message was an error caused by someone pushing the wrong button during a shift change.
"What happened today was totally unacceptable and many in our community were deeply affected by this and I'm sorry," said Governor Ige.
The alert sent many islanders into a state of panic. Residents in the Tennessee Valley also felt helpless as their loved ones were in Hawaii.
Florence native Kelley Choat lives in Hawaii and quickly called her mom after the message was sent out.
"My mom was on speaker phone and I was crying. I figured that was the end," said Choat
Choat said she's angry that they weren't alerted to the false alarm sooner.
"There's 1.5 million people on this island... and you're going to panic all of these people with no place to go. And then wait 37 minutes to reissue the 'oops my bad,'" said Choat.
In Huntsville, Priscilla Oaks had no clue what was going on until her daughter called her. Oaks said she felt helpless knowing that her daughter Angelina, her grandchild and son-in-law were in Oahu, and there was nothing she could do.
"I didn't feel anything until she called me back and said 'I thought it was my last time talking to you'. That's when it was real," said Oaks.
The incident comes as tension remains high between the United States and North Korea. North Korean President Kim Jong-un claims to have ballistic missiles capable of reaching Hawaii and the continental U.S.