This is an archived article and the information in the article may be outdated. Please look at the time stamp on the story to see when it was last updated.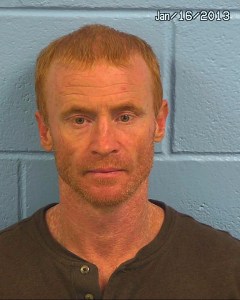 ETOWAH COUNTY, Ala. (WHNT) – An Etowah County inmate who left work detail Wednesday afternoon is back in custody.
Robert Wesley James, 41, of Attalla, was arrested late Wednesday around 11 p.m.  He was caught after a brief vehicle pursuit on I-759 into Attalla on Cleveland Avenue.
Earlier in the day, he left the Etowah County judicial building at 4:45 p.m. in a county maintenance truck.
Later in the evening, off-duty detention deputy Tyler Daniel spotted James leaving the Jet-Pep on Rainbow Drive, heading north on Highway 411.  He was in a white Ford pickup truck, and Deputy Tara Bates saw it and followed it onto I-759 where she tried to pull him over.  James refused to stop, according to Sheriff Todd Entrekin, leading the deputy on a chase.  He wrecked the truck behind the Jet-Pep on Cleveland Avenue in Attalla.
Prior to his capture, James was being detained on property crimes, burglary, theft and a misdemeanor drug crime.  He now faces additional charges, including first-degree escape and theft of property, as well as attempting to elude and resisting arrest.  No bond has been set at this time.