This is an archived article and the information in the article may be outdated. Please look at the time stamp on the story to see when it was last updated.
OWENS CROSS ROADS, Ala. (WHNT) - When Ryan Nelson brought his family with him to the Huntsville area, he painted them a picture of their new back yard.
He remembers, "It's kind of a wish of my children and a promise to them that when we moved here from New York two years ago, we would build them a backyard play-set that they could both use."
So he put in a slide and a climbing wall and a really big swing.
He tells us, "I wanted a glider design that Mary could drive on in her chair and not have to be transferred."
Mary is wheelchair bound, but it doesn't matter when it comes to the swing Ryan built. It's a large suspended platform with a drawbridge style ramp.The thing about this structure is that Mary can power it. Nelson adds, "She's a natural at it."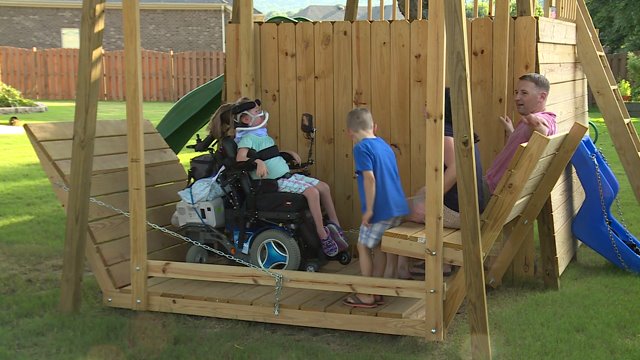 The swing works basically with the same momentum that any other swing set uses. By powering her wheelchair forward and back, Mary, in turn, powers the swing.
From the ground up, Ryan Nelson built a cornerstone of childhood -- a chance to say "I can do it myself."
He says, "Really, in everything we do with Mary, we look to how we can give her independence."
In fairness, Ryan had some help.
He won an online grant to help fund the construction, and his friend Destin Sandlin lent a hand too.
Destin remembers it clearly, "I saw that he was going to build a swing for his daughter Mary, who's in a wheelchair."
And so does Ryan, "He said, I'd love to come out and help you."
"Ryan had everything planned out," Destin continues, "And all I had to do was hold boards and operate a screw-gun where he told me to."
Destin made this time-lapse video of the experience:
In fact, he makes a lot of videos.
Destin runs a YouTube channel called Smarter Every Day. 
He's got more than 3-million subscribers. So a lot of people have seen Mary's swing.
Sandlin explains, "The Smarter Every Day Facebook page has about three-quarters of a million people that follow it, and so I posted this video of Mary on the page. And it went viral. It's got over five-million views."
That is how this backyard project -- a chance for a kid to say "I can do it myself" -- turned into an opportunity to help people all over the world do the same.
"One thing that was interesting," Destin tells us, "is people started reaching out, and they said, 'I know someone that's in a wheelchair, and they would love this.'"
The Nelson family would love that.
Ryan says, "We just want to spread that goodness to other people."
So even though this is a project built on independence, everyone involved is willing to admit they could use a hand now.
Destin explains what they need, "What I think would be cool is if we could get an engineering firm here in town to invest a little bit of time in drawing up some formal plans, stamped by a professional engineer, so that I can freely distribute the plans on the internet for other little boys and girls."
That's just the first step.
Nelson elaborates, "Further down the road, we'd like to be able to grant a swing to a person who's deserving of it."
Now someone else has the chance to join in, to say "I can do it myself" to help make up some plans for the swing to spread around the globe.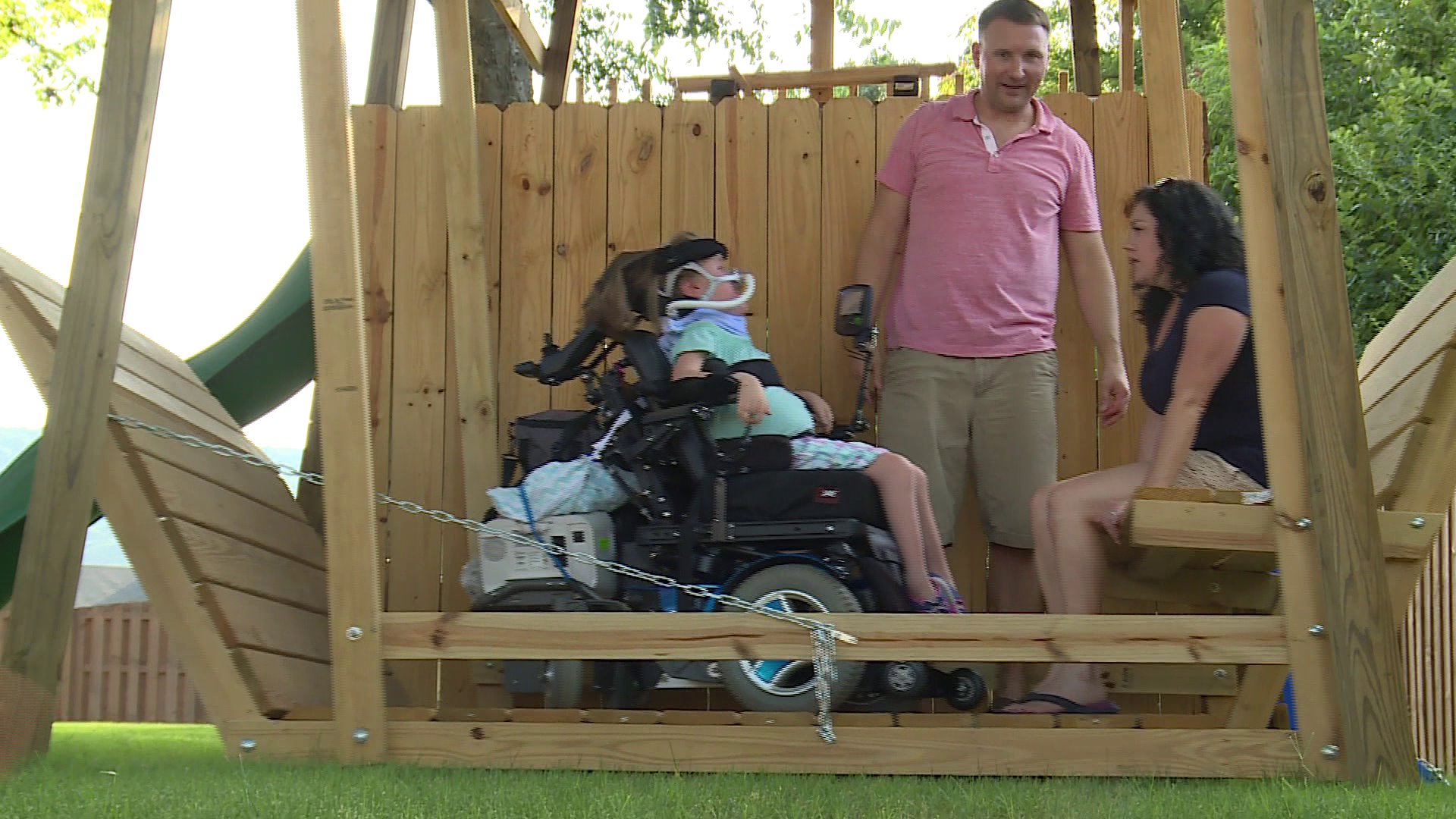 It's worth your time, because Mary still remembers what she said the first time she got on that swing: "This is awesome!"
Of course, right now, the parents always supervise Mary on the swing to make sure everything's OK. They want an engineer's approval to make sure it's 100-percent safe and draw up shareable plans
This is an engineering town.
We can do this. We can make this happen.
If you can help, e-mail us -- or even e-mail David Kumbroch directly at david.kumbroch@whnt.com.
If you can't help yourself, just share the story on Facebook, on Twitter, wherever you are.
The more people here see this, the more likely we are to find the right people to make this happen.