This is an archived article and the information in the article may be outdated. Please look at the time stamp on the story to see when it was last updated.
GILES COUNTY, Tenn.-Fire destroyed a warehouse in Pulaski Tuesday.   The fire was at the Magneti Marelli warehouse, just off Industrial Loop.  The company manufactures automotive lighting, including headlights and tail lights.
Employees tell us this is the company's main shipping and receiving warehouse.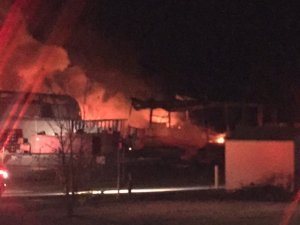 The fire started after 3 p.m. Tuesday on the northwest corner of the building and picked up fast. Firefighters say no one who works at the warehouse was hurt and they were able to get out safely. The Pulaski fire chief was treated for smoke inhalation, but is OK.  However, the building is a total loss.
The fire was made even more dangerous by propane tanks on the property exploding with the heat.
The cause of this fire is under investigation.