This is an archived article and the information in the article may be outdated. Please look at the time stamp on the story to see when it was last updated.
MADISON COUNTY, Ala. - The Madison County Sheriff's Office held a news conference Wednesday morning after closing a drug trafficking investigation on Tuesday.
Investigators arrested three people after searching a home in the 900 block of McKee Road in Toney. They also searched a storage facility near the corner of Highway 53 and Wall Triana Highway.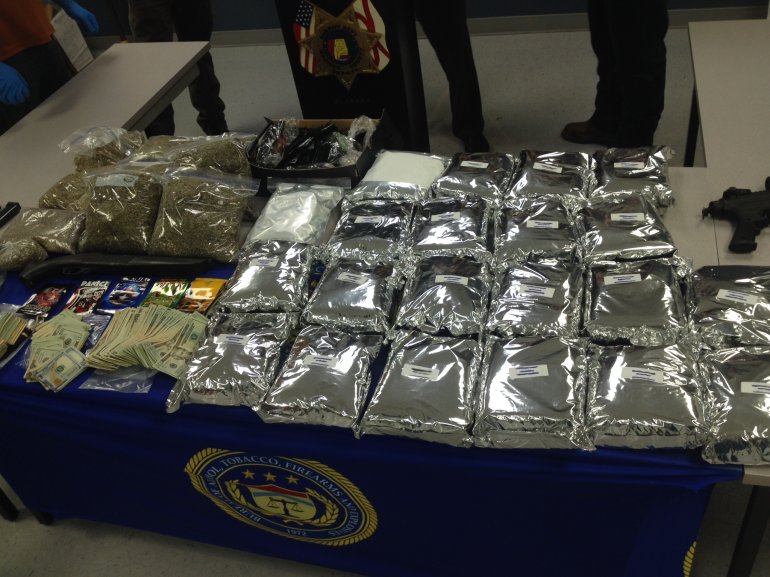 Deputies confiscated approximately 30 pounds of drugs, including marijuana and spice, six firearms and $7,000 in cash.  They also seized a large bag of a white powdery substance believed to be heroin and fentanyl.  The estimated value of the drugs is currently $300,000, but if the white powdery substance is proven to be heroin and fentanyl, the estimated value will go up to $500,000.
The bagged, synthetic marijuana may be laced with those harder, stronger drugs.
"The eight bags we have, if you'll look at them closely, you will see little chunks of white powder in those packages," said Capt. Michael Salomonsky. "To the best of my knowledge, this is the first time that we've had the synthetics or the analogs laced with heroin and fentanyl."
Salayetha McCraney is charged with drug trafficking and possession of marijuana.  She is being held on $515,000 bond.
Bobby DeAndre Lamb is charged with drug trafficking, possession of marijuana and certain persons forbidden to possess a firearm.  He is being held on $125,000 bond.
Cortez Whiteside is also charged with drug trafficking. His bond is set at $100,000.
McCraney is from Madison County. Lamb and Whiteside are believed to be from Gadsden.