This is an archived article and the information in the article may be outdated. Please look at the time stamp on the story to see when it was last updated.
MONTGOMERY, Ala. – The Office of Water Resources, a division of the Alabama Department of Economic and Community Affairs, has started holding regular meetings to assess Alabama's current drought situation. A drought emergency was declared Tuesday afternoon, along with drought warnings, watches, and advisories in other portions of the state. You can check the current drought declarations across the state here on ADECA's website.
Those present included representative of state and local offices, Alabama State Climatologist Dr. John Christy, meteorologists from the National Weather Service offices, and reservoir managers. Topics ranged from soil and crop moisture, to well and streamflow levels, to the wildfire risk. The conclusion was the same from every person at the meeting: the drought is expanding and will continue to impact Alabama indefinitely.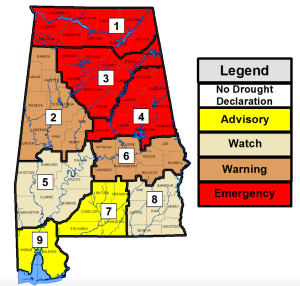 So what is a drought emergency?  It's not an action; it's more of a suggestion to individual water systems in the affected areas.  Alabama's Office of Water Resources says this:
"Very little rainfall, above normal temperatures, and falling reservoir and groundwater levels have indicated drought conditions have become more severe in many areas, particularly in north, east and central Alabama," said Tom Littlepage, manager of OWR's Water Management Unit. "As water levels drop, we strongly urge public water systems and other users of large amounts of water to continue to carefully monitor conditions and implement their drought conservation plans, as needed."
Rain will finally fall across the Valley Thursday, but we won't receive enough rain to even dent the drought by the time the group holds their next meeting on November 1st.
Check the forecast for rain anytime at WHNT.com/Weather and in the "Daily Forecast" section on Live Alert 19!