This is an archived article and the information in the article may be outdated. Please look at the time stamp on the story to see when it was last updated.
MADISON COUNTY, Ala. (WHNT) — To look at a simple pregnancy profile picture that could have been taken in any living room, some may only see light reflected from a dormant flat screen television in the photo's background. But for one Madison County family, the halo of light is a sign that someone is watching and protecting them.
Friday, Brigette Honey introduced not one but two new additions to the family of three boys she already shares with her husband Chris. But the new life created some dire circumstances for the Honey's, their friends and loved ones.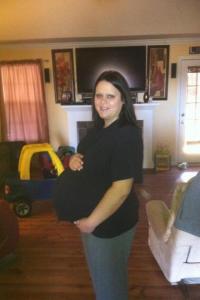 This year, Chris Honey says his thanks has nothing to do with a 20-pound feathered fowl; but instead two little morsels of joy–his brand new twins Abby and Austin.
"The people in the nursery, they call him ham-bone and she's turkey because he was 8 pounds five ounces and she was 6 pounds 1 ounce," laughs Honey, "and they are 100 percent healthy and they are going to be discharged today.  The hospital has been great and has allowed them to stay with us."
The twins are doing great, but during birth, Brigette Honey's body began to attack itself.
"I went down to the second floor and there was a nurse that met me," recalls Chris. "She asked if I was Mr. Honey and said I need you to step in this room and as soon as I walked in that room my heart dropped."
Wife Brigette's blood pressure and heart rate had dropped as well. The mom, fresh from delivery, was experiencing an amniotic fluid embolism, a condition that occurs during one in 80,000 births with a survival rate of only 20 percent. Chris say he feared his twins would never know their mother.
"Friday night was a rough night.  She struggled to stay alive all night long. They were pumping her full of blood," Chris said.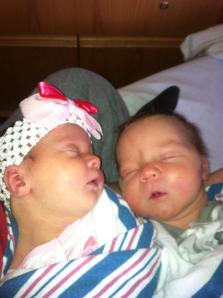 The internal bleeding warranted two emergency surgeries, but as the family waited with heavy hearts, doctors and nurses were not the only ones with a vested interest in the outcome of this story. The Brigette Honey Prayer Page on Facebook attracted thousands of likes and well wishes in just days.
"We put it on Facebook and complete strangers, I have no clue who they are were just saying how special the family is and we just kept them updated and the amount of support was just unreal," Chris said.
The prayers apparently paid off. Brigette Honey is now expected to be moved in to a regular hospital room at any time as she recovers from surgery.
"All the doctors so far today said that it's just incredible how fast she's recovering because we have two other kids together and I just don't know what we would do without her," said Chris.  "She's amazing."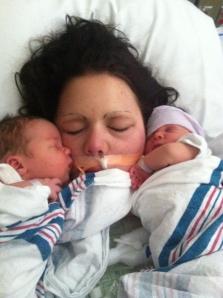 Chris and the entire Honey family say they are more thankful for each other this year than they could have ever imagined.
"We are just thankful.  This is the best Thanksgiving that I've ever had, that my family has ever had — it's a miracle," Chris said.
The Honey family has incurred many unexpected and additional medical bills due to Brigette's emergency surgeries, and her recovery will require Chris to stay out of work for an unknown amount of time. Friends and family of the Honeys have started an account at Redstone Federal Credit Union called the 'Brigette Honey Donation Fund' for those who want to help this family in their time of need.