This is an archived article and the information in the article may be outdated. Please look at the time stamp on the story to see when it was last updated.
HUNTSVILLE, Ala. (WHNT) - A Huntsville law firm in encouraging young people to be part of the solution to distracted driving.
Morris, King & Hodge, P.C. recently held its 2nd annual Driver Safety Scholarship contest.  The law firm invited high school seniors and college freshmen to submit original 1,000-word essays on the important topic of distracted driving.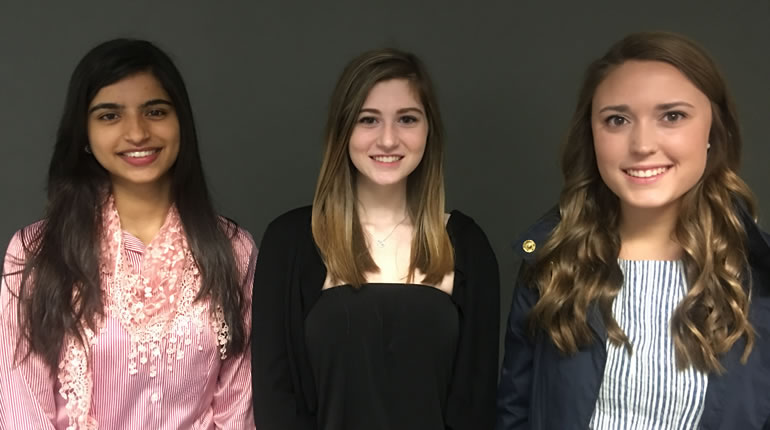 Entrants were challenged to create an original essay "explaining the dangers of texting and driving and practical steps to ending this momentous problem."
The law firm's goal was to increase awareness of a serious traffic safety issue that is a particular problem among young drivers.
The law firm increased the amount of scholarships awarded from $3,000 last time to $4,200 this year. More than 50 students submitted essays for consideration in the Driver Safety Scholarship Contest.
This year's winners are:
Lauren Faulkner - Grissom High School (first place). She plans to attend Auburn University and major in industrial design.
Samin Riyaz - Huntsville High School (second place). She plans to study bio-medical sciences at Brock University in Canada and specialize in a professional medical field.
Nour Qushair - James Clemens High School (third place). She plans to study business at the University of Alabama-Huntsville.
For her essay, Lauren Faulkner examined the need for a multi-faceted approach to the issue. She advocates for stricter enforcement, along with more education for younger drivers.
Samin Riyaz also believes enforcement is key. She would like to see a total ban on cell phones while driving in all 50 states.
Nour Qushair says the $25 fine for texting and driving is too low and does not reflect the urgency of the problem.
The winning essays were selected based on style, originality of content, and accuracy.
"We wish to congratulate the winners and are appreciative of all those who participated in the essay contest," said Joe A. King, a partner at Morris, King & Hodge, P.C. "We received many impressive entries. Obtaining a sound college education is an important step for young people to realize the career goals that they have. We are delighted to help these students pursue their educations."
We congratulate each of the winners on her award and thank her for sharing her message!
Huntsville attorney Joe King talks about why his firm sponsors this scholarship contest. (Photo: Denise Vickers/WHNT News 19)

Lauren Faulkner, a Grissom High School student, talks about her essay. (Photo: Denise Vickers/WHNT News 19)

Nour Qushair, a James Clemens student, talks to the group. (Photo: Denise Vickers/WHNT News 19)

Samin Riyaz, a Huntsville High student, discusses the points of her essay. (Photo: Denise Vickers/WHNT News 19)

L to R: Attorney David Hodge, Samin Riyaz, Nour Qushair, Lauren Faulkner and Attorney Joe King. (Photo: Denise Vickers/WHNT News 19)

Joe King and David Hodge talk with Nathan McGee, center, WHNT News 19's Local Sales Manager. (Photo: Denise Vickers/WHNT News 19)

Nathan McGee, center, makes a point about the Distracted Driving Project as Loni Cleve, Digital Sales Manager, left, listens. (Photo: Denise Vickers/WHNT News 19)

Nour Qushair, left, talks with WHNT News 19's Melissa Riopka. Gregg Stone records the interview. (Photo: Denise Vickers/WHNT News 19)

Melissa Riopka and Gregg Stone interview Samin Riyaz. (Photo: Denise Vickers/WHNT News 19)