This is an archived article and the information in the article may be outdated. Please look at the time stamp on the story to see when it was last updated.
HUNTSVILLE, Ala. (WHNT) – Etsy.com is a popular online marketplace.
Many parents love shopping there, or through similar online platforms, for handmade craft items they can't find anywhere else.
Unfortunately, some of those items, could put your child in danger.
A concerned viewer, recently emailed WHNT News 19 after spotting a handmade car seat harness for sale at Etsy.com. She was worried. How could it be legal? Was it regulated? How could it be sold online?
Good questions…so WHNT News 19 took action to get answers.
Car seats, cribs and toys sold in stores face strict federal safety regulations. They typically come with user manuals, clear warnings or age recommendations.
Products sold on Etsy.com or other online marketplaces, may not.
Our investigation found baby toys with small parts, crib attachments and car seat accessories for sale on Etsy, with no visible warnings for buyers.
Heather Schilling, a Tennessee Valley mom who loves Etsy.com, tells WHNT News 19 the hidden risks never occurred to her when she purchased car seat and strap covers for her daughter Ella.
She's not alone.
Sarah Tilton, Child Passenger Safety Advocacy Manger for Britax, one of the nation's largest car seat and infant product makers, said many just never think of the dangers online marketplaces can bring.
"We don't think about the hazards that go along with many of these items," Tilton said.
Tilton tells WHNT News 19 many items sold at Etsy.com and elsewhere online, are considered "after market," so there are no uniform standards for them. (Note: A detailed response from Britax may be viewed at the bottom of this article.)
Sometimes the marketing of these products can be misleading.
WHNT News 19 found car seat covers on Etsy.com, described as "replacements" for a Britax car seat. That might make you think they've been given the OK from Britax or other car seat makers, but that's not the case.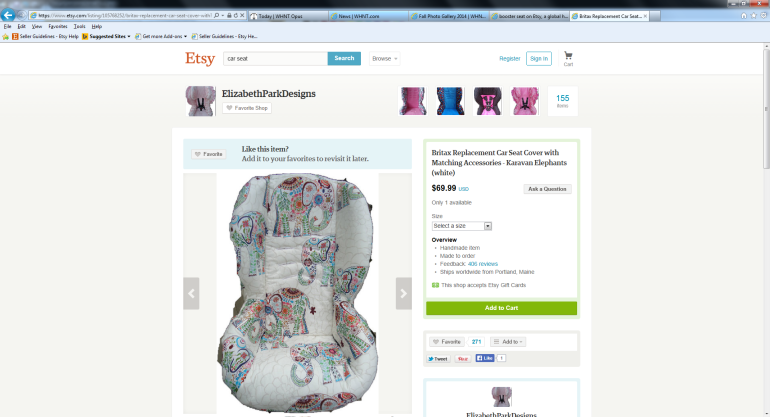 "We have not shared [specifications with them.] We have not tested their products. We have not given them information," Tilton said.
That's a problem, because car seat makers have to make sure their fabrics and covers meet strict federal flammability requirements.
If you've replaced yours with something handmade, there are no guarantees for your child's safety.
You may also be voiding the warranty spelled out in your car seat's manual.
When contacted by WHNT News 19, Etsy.com would not address specific items but responded with this statement: "Sellers are required to follow local and federal laws. If someone ever sees a listing that may be in violation of Etsy's policies, they can use the "Report this item to Etsy" link at the bottom of the listing page. Using this link to report these listings is the best way to bring concerns to our attention."
The company added that it works closely with the Consumer Product Safety Commission and that its policies prohibit selling items that violate CPSC regulations. Etsy is upfront about those policies, clearly spelling out its terms of use online.
Although items for sale are not pre-screened, Etsy also has "people and technology in place to promptly remove prohibited items when they become aware of them."
Still, some want online marketplaces to do more.
The North Alabama Better Business Bureau wants more clear warnings, like those found in stores.
"We would encourage marketplaces such as Etsy to require the vendors that do place products in their marketplace to provide such disclaimers," Elizabeth Garcia, North Alabama BBB President said.
Until then, it's buyer beware.
The BBB urges parents to do as much research as possible about any items they're buying. Buyers should also contact their car seat, crib or toy maker directly – to get an OK before using any "after market" attachment or accessory.
After hearing what our investigation uncovered, Shilling will now be more cautious and ask a few more questions.
She won't stop shopping Etsy.com though. After all, Christmas is just around the corner.
*****
Here is a detailed response to the question of items sold in online marketplaces, like Etsy.com, from Sarah Tilton, Britax Child Passenger Safety Advocacy Manager:
"As noted in the Britax User Guide, the use of non-Britax covers, inserts, toys, accessories, or tightening devices is not approved by Britax. The use of these unapproved, aftermarket devices has not been crash-tested by Britax and could fail Federal Motor Vehicle Safety Standards. Therefore, they may void the Britax warranty as they could cause the child car seat to not perform as intended in a crash and could become a dangerous projectile in a collision.
Britax does not recommend or endorse the use of any non-Britax aftermarket accessories. We test our car seat accessories to ensure that the use of those products doesn't negatively affect the performance of the product relative to the Federal Motor Vehicle Safety Standard No. 213 (FMVSS213)."