This is an archived article and the information in the article may be outdated. Please look at the time stamp on the story to see when it was last updated.
MADISON, Ala. (WHNT) – A disturbing new trend is spreading across social media. People on social media are stealing photos of other people's children. It's called "digital kidnapping."
The term "digital kidnapping" may seem embellished to some, but the victims who have pictures of their children stolen are left wondering why someone would do this — and what else are they capable of?
Denise DeRosa is with the Family Online Safety Institute, a global non-profit that advocates for a safer internet. As she explains, "people are role-playing and they're doing this by going into social media accounts, saving photos of other people's children and then, pretending these children are their own."
The thieves create entire story lines around the photos.
"They change their names, talk about milestones, although they… have no connection with these kids," DeRosa adds.
While the children may not be physically harmed, it can be a frightening experience for families who discover they've been victimized.
Last December, Mary and Brad Grier of Madison learned images of their newborn, Jack, had been digitally kidnapped.
Mary Grier recalls, "I got a comment on one of my [Instagram] pictures of Jack and it said 'you need to put your account on private. Someone is stealing your photos.'"
In this case, the Griers say the warning actually came from the thief – a mother of three from Kentucky – as part of a larger plan to keep the lie going.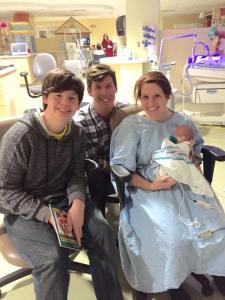 The stranger had apparently come across Jack's photos online and tried passing him off on her Facebook and Instagram accounts as her newborn son.
"I think it's a situation where her boyfriend had broken up with her and she wanted to get him back and she had been faking a pregnancy," explains Mary Grier.
However, the woman's friends became suspicious when they noticed the baby's ankle band had the name "Grier" printed on it. A reverse image search led them to Mary Grier's blog, which she had been using to keep family and friends updated on Jack's progress in the NICU.
The Griers believe the woman wanted them to make their social media accounts private to prevent her friends from discovering she'd made up the entire story. However, the plan backfired.
Within minutes of the initial message, the Griers got multiple messages from the woman's acquaintances in Kentucky, with screenshots of her social media accounts.  The pictures were of Jack.
The woman was calling him "Axel." She had created an online birth announcement with a new birth date and had written detailed, although fake, captions for each photo.
When Mary Grier contacted the woman on Facebook, telling her to remove the photos, the stranger said her account must have been hacked.
The Griers succeeded in getting the woman's Instagram account deleted, after first providing the social media company with a copy of Jack's birth certificate. Facebook proved more difficult, although they say the woman did eventually take down Jack's photos.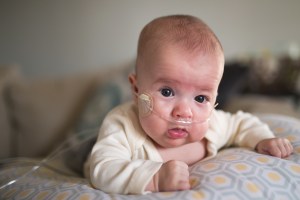 For the family, the entire ordeal was a frightening experience. It came as Jack was still fighting for his life, after having been born at just 24 weeks.
"We're sitting here at home and Jack's at the NICU, and while I know he's really safe and secure at the NICU, he's still not here with me," Mary Grier said.
They had no way of knowing whether the woman might try to take the fantasy a step further and steal Jack, instead of just his pictures.
They say they took some comfort in the fact that she lived a couple hundred miles away. Still, they felt violated.
But while what the stranger did may have been disturbing, it was not strictly illegal. All the Griers could do was change how and what they shared on social media.
Mary Grier immediately switched her Instagram to private from the default public setting. She also began restricting who could see the posts and pictures she shared of Jack on Facebook.
Denise DeRosa urges all parents to take these same steps. For those who enjoy using Facebook, she says the company has added a new scrapbook feature worth checking out.
Pictures can be kept in a restricted album. "It's just another element of privacy and security for your photographs," DeRosa says.
As for the Griers, they say they just hope their experience serves as a warning to other parents about the reality of digital kidnapping.