This is an archived article and the information in the article may be outdated. Please look at the time stamp on the story to see when it was last updated.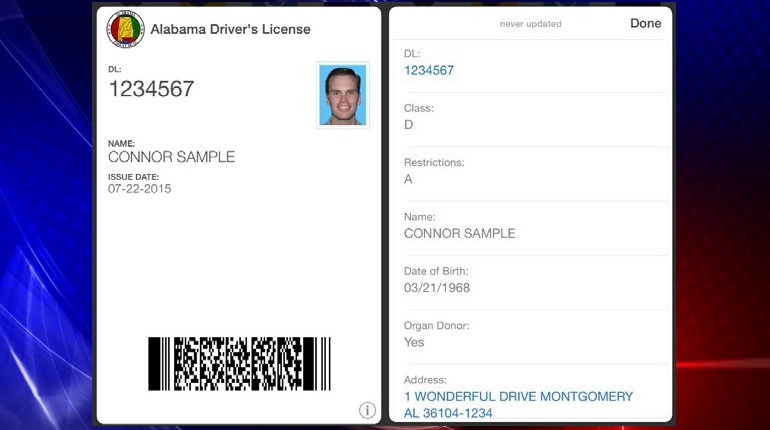 MONTGOMERY, Ala. (WHNT) – Drivers across Alabama will now be able to present a digital license to law enforcement and renew licenses online.
In addition to having access to a convenient backup in case you forget your hard copy license, you will now be able to renew your license or order a duplicate over the internet.
The Alabama Law Enforcement Agency announced a system overhaul to improve efficiency and effectiveness for drivers.
Changes to the system include:
• Online scheduling: Customers can select an appointment time that suits their schedules to make a visit to one of ALEA's Driver License Examining Offices is as convenient as possible.
• Online driver license renewals: Licensed drivers may choose to renew their standard driver licenses or order a duplicate license via Internet when it is most convenient for them.
• Self-serve kiosks: Rather than wait for a DL Examiner, customers who seek to renew standard driver licenses, non-driver IDs, or order a duplicate license may opt to use the self-serve equipment that trims a visit to mere minutes.
• Digital licensing for smart phones: Customers who have smart phones may download a digital license to show as a secure form of identification. (Online renewal required for digital license).
• Equipment upgrades statewide: ALEA has started updating computer stations, testing stations and other equipment at its offices, and at Probate Judge and License Revenue Commissioners Offices, across the state.
State officials told our news partners at AL.com system improvements were quietly rolled out about four months ago, so authorities could ensure the technology was working property.
In that time some drivers have encountered issues at the renewal office. Mark Craig, Madison County's Licensing Director, says there have been instances of the new face-recognition cameras failing to make a match. He says beards, glasses, and weight gain or loss can change features in way that makes it difficult for the system to recognize the face.
If that happens drivers have to go to the state office and get in line.
"We have absolutely zero control over the new system and currently we do not have the ability to assist in situations where an individual does not verify. That is strictly a State function," explained Craig.
He says state officials are currently working to allow counties the ability to override the system and process the renewal in these situations, but for now the county offices do not have that ability.
So far, more than 10,000 residents have renewed their license online at ALRenewal.com or at one of 10 kiosks at driver license offices across the state.