This is an archived article and the information in the article may be outdated. Please look at the time stamp on the story to see when it was last updated.
MADISON, Ala. – After a week of announcements, Friday developers released a fly-through video rendering of what Town Madison will look like when it is completed.
It includes an up-close look at what Breland Companies and others have planned for the 530-acre development.
We already know it will be split into sections: the West End, The Commons, Quarry Park, The Heights, The Exchange, The District, and Avenue Z. Now, developers are explaining more about that format.
"What you want to do is have a little space for everything," explained Joey Ceci, Breland Companies spokesman. "It is a large piece of land, so it has to be done in phases. Each use needs to be in its own unique district which is what we have created here."
He added that the districts, while in some ways different, will be tied together by restaurants, common themes and residential space.
"Each use is connected to each other with a little bit of a separate identity," he said.
In the design, you'll find lots of community elements.
"You want some nice public art. You want fountains. Benches. Heavily landscaped. We want almost a park-like atmosphere in those public spaces."
Below, WHNT News 19 breaks down the districts:
The Exchange
Ceci said this is more of the major retailers people are already used to.
"A little bit more of your traditional stores you'll find in a shopping enter," he said, "with restaurants mixed in."
He continued, "We try to connect things together with the brick walkways, lots of trees, lots of green. I think you'll see a lot of the traditional stores people have been asking about for Town Madison in this section."
The District
The District is described as the ultimate upscale outlet mall.
"This gets you into the small-town feel of streets and some very unique connected buildings with smaller retailers," he said. "This is a premium outlet section that is lacking in this market."
"We want to focus on those top line brands you'd find at Opryland or in Leeds. We are envisioning a covered walkway to keep a few of the elements out, but still have that open air feel."
Avenue Z
This is where you'll find apartments and some more mixed-use elements.
"This is the entertainment-type section, and lots of restaurants," said Ceci. "We want to have a special focus on food in this Avenue Z section."
A grocery store is expected, along with a food hall.
"We want to have the best food hall in North Alabama," he said. "We are working with a couple of chefs who have come up with some unique concepts."
More hotels are also expected here, with offices too.
"We want a lot of maybe local shops on the ground floor and office above. Just a mix of products here."
A movie theater is in the design for this section of Town Madison. We asked Ceci if this was definite.
"You will see a movie theater on that site," he said. "We have a few names we have been talking to, and I think this summer we will be able to share one of them with you."
The Heights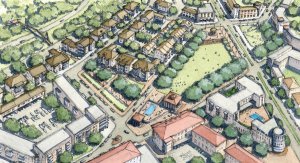 Ceci describes this part of Town Madison as single-family residential, similar to Providence.
Construction here already started.
Breland Companies and partners anticipated a village square, making this a true neighborhood.
The Commons
This part will come later, within 5-10 years according to Ceci. Planned here is another mix of homes, apartments, shops, dining, and amenities.
West End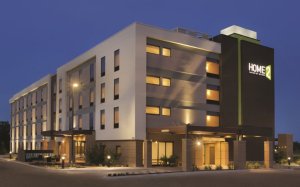 Announced Friday, The West End will include a Home2 Suites by Hilton. This is the first hotel announcement of many that developers expect across Town Madison.
The final design is still in the works, but developers believe it will look similar to the image to the left.
The West End will also include more large retailers and restaurants.
Quarry Park
This section of Town Madison is mainly for green space.
Ceci said right now, the park site is a Madison and Madison Utilities-owned, water-filled quarry. The plan is to turn it into a park in a few years. They will work with the city on how best to do so.
More Information
Click here for the new Town Madison website that launched Friday. It shows more about each district.
Below, you can see the Town Madison rendering video as designed by Pieper O'Brien Herr Architects:
We asked Ceci about the parking, which isn't currently designed as large garages but more single-level spaces throughout the development.
"We tried to break it up. We have a boulevard coming through the mixed use and entertainment center, we have a lot of walkability," he said, "We are trying to, as much as we can, balance that need for parking while making it a nice pedestrian-friendly development."
Overall, Ceci said Town Madison will live up to the hype as a destination.
"This is going to be a major, regional development," he said. "It's going to have people who travel from 50, 60 miles to shop, for entertainment, for dinner, movies."