This is an archived article and the information in the article may be outdated. Please look at the time stamp on the story to see when it was last updated.
AMES, Iowa – A National Guard Sergeant recently shared a precious moment with his family through the gift of modern technology. Then, he got a chance to surprise them in person.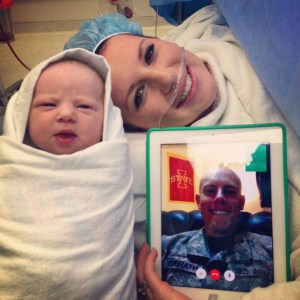 Sgt. John Vorrath was deployed with his unit in the Middle East. He watched the birth of his second child, Charlotte, on his iPad. He was there in the delivery room via Facetime as his wife Janae brought her into the world.
As he watched, his commander slipped him a secret note saying his request for leave had been granted.
Vorrath's wife didn't know about this, though. Sgt. Vorrath secretly hopped on a plane and 22 hours later, he surprised his family at the hospital in Ames, Iowa.
The emotional video was posted to YouTube.
Another great part of this — the couple's 2-year-old son also got to see his dad for the first time in several months.
Sgt. Vorrath will be back home on leave for another week before returning to active duty overseas.
 SHARE this story with your friends who love good news!