This is an archived article and the information in the article may be outdated. Please look at the time stamp on the story to see when it was last updated.
Is it a roadblock or a miscommunication?
Alabama Transportation officials are accused of not allowing local leaders in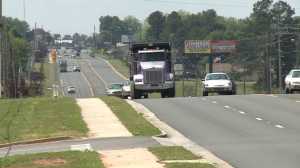 DeKalb County to install road signs directing people to the safety of a storm shelter at the local high school.  ALDOT officials speaking out, following the firestorm of controversy stirred up after this story made nation-wide headlines.
DeKalb County School Superintendent Charles Warren reported state officials had denied their request to install the signs along state highway 35 directing people to a newly constructed FEMA storm shelter built at Plainview High School. The school was badly damaged during the April 27 tornado outbreak.
Alabama EMA and local officials along with the superintendent's office will now work to get the right signs installed.
WHNT News 19 obtained this statement from ALDOT Tuesday:
"Alabama Transportation Director John Cooper has asked transportation officials from his office in Montgomery to work with DeKalb County officials on identifying appropriate signage for local storm shelters. There is no transportation department policy prohibiting storm shelter signage, but requests for signage do need to be coordinated through local DOT officials and sometimes at the state level to ensure signage meets the intended purpose and complies with federal and state guidelines. ALDOT fell short in taking discussions with DeKalb County officials beyond consideration of the sign that was initially proposed, and there is always an avenue of further discussion – in this case, that proper avenue is the Department of Transportation Office in Montgomery. There was never any intention of not working with local officials, and if there was a temporary roadblock, we're back on the right road toward appropriate signage that identifies storm shelters. We are in the process of working with local officials and State EMA officials to develop and install appropriate signage."

-- TONY W. HARRIS

  Alabama Department of Transportation