This is an archived article and the information in the article may be outdated. Please look at the time stamp on the story to see when it was last updated.
LIMESTONE COUNTY, Ala (WHNT) - Jury selection began Monday at the Limestone County Circuit Courthouse for the State Trooper charged with killing a Limestone County couple in 2011.
A jury of nine women and four men, with one as an alternate, were selected for the case.
Heath Moss, 33, was indicted after the April 25, 2011, wreck that killed Jamie Lee Gossett, 31, and his wife, Sarah Rene Gossett, 38, of Tanner.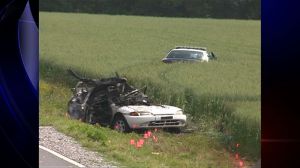 Trooper Moss reportedly was responding to another wreck and witnesses say he was running his emergency lights and siren at the time of the crash. The family has filed a lawsuit against the officer claiming negligence and recklessness. The suit was filed May 6 on behalf of the couple's estate.
According to the suit, Trooper Moss was driving south on Lucas Ferry Road around 9:30 a.m. while the Gossetts were traveling south on the same road. The Gossetts were waiting to turn left onto Moyer Road.
According to the suit, Moss ran into the back of the Gossetts' vehicle.
In his opening statement, Limestone County District Attorney Brian Jones said former Trooper Moss was negligent in driving 106 miles per hour on the two-lane Lucas Ferry Road.
Moss' attorney countered, claiming Moss was just doing his job and that his actions were not negligent.
A State Trooper dispatcher who took the stand testified she sent Moss to a wreck on April 25, 2011 in which a child was reported injured. She said the child suffered a minor cut.
WHNT News 19 has a crew in Limestone County and will bring you updates tonight on WHNT News 19 at 6:00.