This is an archived article and the information in the article may be outdated. Please look at the time stamp on the story to see when it was last updated.
MORGAN COUNTY, Ala. - The National Weather Service confirmed damage done in the Trinity area early this morning was from an EF-1 tornado with winds of up to 105 miles per hour. The path was almost two and a half miles long and 75 yards wide.
Thankfully no one was hurt, but hearing a tornado pass nearby is not how the residents of the neighborhood expected to wake up. "It sounded like somebody ran into my house with a truck," recalled Steven Cartee.
"There was no power, so I grabbed my flashlight and started shining it around and saw my neighbors. Then she called crying," he said. " She was worried about her kids so I went over and started helping her.
Steven said he didn't have any major damage but found his flag across the road.
Skye Cartee lives one street over. "My wife woke me up just yelling, 'Get up, get up, get up!' I didn't know what it was and all you could hear was boom boom boom."
Skye said that when he stepped outside to see what was happening, "I'm talking about trees were completely bent over."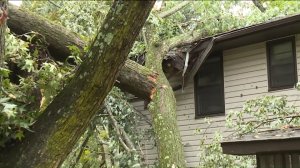 Kathy Phillips and her husband played it a little safer. "We really didn't know what it was. Something big shook the house."
That was probably a tree damaging her home. "The top of the tree is actually in the house."
Kathy and her husband rode the storm out in the shower. When the sun came up, they got a better look at what had happened.
Utility crews from Joe Wheeler Electric quickly responded to get the power back on as the cleanup started.