This is an archived article and the information in the article may be outdated. Please look at the time stamp on the story to see when it was last updated.
DECATUR, Ala. (WHNT) – A crowded city council chambers delivered a standing ovation after Nate Allen was officially appointed as the new police chief.
He says the welcome was both surprising and humbling.
The Detroit native comes to the River City after serving as assistant police chief in Knoxville, Tennessee. Here in Decatur, he will be paid $93,444 according to Mayor Don Kyle.
Mayor Kyle says that retired chief Ed Taylor and others were in control of screening the more than two dozen candidates.
"I emailed all five councilmen the night after [Allen's] second interview and said 'We need this guy,'" said the mayor.
Some of the applicants were current Decatur officers, but Mayor Kyle says Allen's outside knowledge made him the most attractive option.
"He's headed up two presidential security issues in Knoxville already," said Mayor Kyle. "And represented 16 counties in joint task force operations, things our guys haven't had the chance to do."
Allen says he has been making frequent visits over the last three weeks so he can hit the ground running.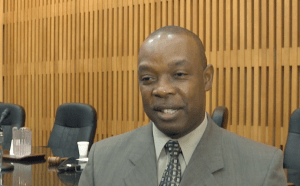 "I'm looking to build an even more transparent police department," he began. "Each officer must remember they work for the citizens, that we are there to serve the citizens and go back to the same old adage of we're here to serve and protect."
He has a 12-month plan where he hopes to learn about the community and about his new department.
Nate Allen will be officially sworn in on May 23.