This is an archived article and the information in the article may be outdated. Please look at the time stamp on the story to see when it was last updated.
DECATUR, Ala. - A royal visitor to the rehab center of Decatur-Morgan Hospital made a magic moment for a special little girl.
Stacey Palmer is the longtime physical therapist for 7-year-old Kiersten, who Palmer says has been going through a particularly rough patch with her health.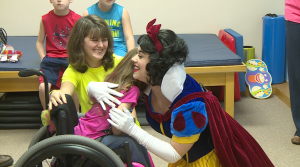 "She has Spina Bifida, and she has a shunt, so she's had to have several surgeries to replace the shunt and drain the fluid from the brain," explained Palmer. "She's also had some cellular tumors on her back that they had to remove."
Palmer contacted Magic Moments and as a result, her favorite Disney princess, Snow White, surprised her at the rehab center.
The special guest also announced that Magic Moments is sending her whole family to Orlando for an all-expenses-paid trip to Disney World.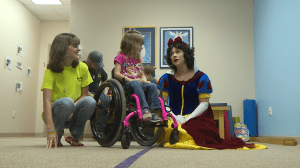 "To see that she's in good enough health to go and [her brothers] get to experience it with her, it's a once in a lifetime trip to get to go down there with no worries about hospitals and doctors appointments nd to be a family of 6 enjoying Disney World," said her mother, Cassie Turner.
Magic Moments is picking up the tab for the hotel, airfare, park admission, and even the car that will get the family around town once they get to Florida.