This is an archived article and the information in the article may be outdated. Please look at the time stamp on the story to see when it was last updated.
ATHENS, Ala. (WHNT) – A man is now in custody, charged with attempted murder, after allegedly shooting a man on a motorcycle on Highway 72 just west of Mooresville Road.
Monday, shortly after 2:00 p.m. Athens Police received a call saying a man had been shot in the back and the arm on his motorcycle by a man in a green SUV.  The victim, Brandon Matlock, said he was trying to pass the green SUV when he looked over and saw a man pointing a pistol at him.  The man then fired multiple shots at him.
Police looked for evidence and the scene and talked with witnesses.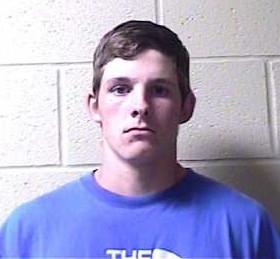 The case took a strange turn later in the afternoon.  Decatur Police got a call from Noah Andrew McGlawn, who said he was the man who shot the motorcyclist.
Athens Police and Decatur Police responded to the Chevron on Alabama 67 west of I-65 and arrested McGlawn without incident.
Police say McGlawn told them he was mad at his father and just wanted to shoot someone. He said he had been driving around all day and when the motorcycle passed him, he pulled his .22 caliber pistol out and shot the man.  McGlawn said he didn't know the victim and had never seen him before. 
McGlawn said he drove around for a while and got to thinking about what he had done and decided to turn himself in.
Matlock, the shooting victim, was sitting up and talking when the ambulance arrived.  He was taken to Athens-Limestone Hospital and then flown to Huntsville Hospital by Med Flight.  As of Monday night, he was listed in stable condition.
Noah McGlawn is also charged with shooting into an occupied vehicle.