This is an archived article and the information in the article may be outdated. Please look at the time stamp on the story to see when it was last updated.
MORGAN COUNTY, Ala. (WHNT) — Thursday afternoon Morgan County Sheriff deputies trained with several of the departments K-9 officers. Under a newly passed law signed by Alabama Gov. Robert Bentley it is now a crime to injure or interfere with a police dog, search and rescue dog, or their handlers.
Don Carr has been a K-9 handler with the Morgan County Sheriff Office for 12 years. Carr says their department has not lost any dogs in the line of duty but they have had dogs injured.
"These dogs are big investment for the training time it costs anywhere from five to twenty thousand dollars each dog," Carr told WHNT News 19 Thursday afternoon during a training exercise.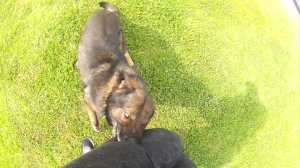 The law makes it a misdemeanor to harass or interfere with a police or search and rescue dog in the performance of its duties. Harassment could include distracting a dog by shouting, throwing an object, shining a flashlight or tossing out food.
Rep. Paul DeMarco, R-Homewood, who sponsored the bill, said the change closes gaps in state law on protecting police dogs.
"In Alabama, there was a law if you killed them but not if you injured on interfered with them doing their job," DeMarco said. "It was a very limited law. We looked around the country and there were other states that had laws that provided for more protection for police dogs doing their job."
Causing an injury that takes the dog out of service for no more than 30 days is also a misdemeanor.
To seriously injure, steal or kill a police dog or search and rescue dog is a Class C felony under the new law, punishable by 1-10 years in prison.
Chauncey Wood of the Alabama Association of Rescue Squads said the new law also sets up important protections for search and rescue dogs. He said before HB259 there was no law specifically concerning injuries or interference with search and rescue dogs and their handlers.
"When they're on duty, and when they're working, somebody hurts that dog or shoots that dog or knifes that dog, that dog is just like a police canine," Wood said. "That dog's on duty. That's a felony. Somebody hurts the handler, it's the same thing."
The law is set to take effect Aug. 1.
(Our news partners at AL.com contributed to this report)