This is an archived article and the information in the article may be outdated. Please look at the time stamp on the story to see when it was last updated.
MORGAN COUNTY, Ala. (WHNT) – Morgan County Deputies and other agencies spent the morning making a drug bust in a community that's had problems in the past.
It started with a phone call from a concerned citizen on Nance Ford Road in Hartselle. That's where residents say "strange behavior" has been going on for several years.
"There has been a constant problem, complaints from the neighborhood, all the community around here for literally years about the activity and actions of the people involved, " said Sheriff Ana Franklin.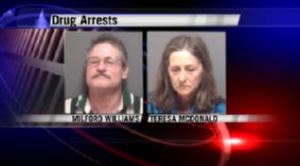 Deputies arrested two people, Milford Williams and Teresa McDonald, who have had run-ins with the law in the past.
"They've been jailed multiple times in the past for misdemeanor crimes like harassment and trespassing and those kinds of things," said Sheriff Franklin. "We felt like a lot of the issues were coming from things that had to do with meth use."
Franklin said they have never had enough evidence to get a search warrant on McDonald and Williams.
That all changed Saturday, when she said a neighbor took it upon himself to get an active warrant for Williams. When deputies executed the warrant at 3147 Nance Ford Road, Sheriff Franklin said they smelled what they believed was methamphetamine on both involved.
"We got enough probable cause to get a search warrant", said the Sheriff.
Deputies executed that Saturday. They found two used meth labs and several amounts of finished product, methamphetamine, in the residence. Franklin also said McDonald legally bought ephedrine Friday.
They charged both McDonald and Williams with unlawful manufacturing of a controlled substance, possession of methamphetamine, and possession of illegal drug paraphernalia.
Williams was also served a trespassing warrant.
"The thing about this, is that it takes the whole community helping us," said the Sheriff. "We have done all we can do from the standpoint of law enforcement, but until we could get some help from the community members that stood up and got the warrant that initially led to this, we wouldn't have had the probable cause to execute the search warrant."
Sheriff Franklin stressed that it could not have been done without the community's help.
"The community may know something's going on. We may know something's going on. Until we have that good probably cause and that evidence that we have to be able to make these arrests, we can't fix the community's problems without the community's help. "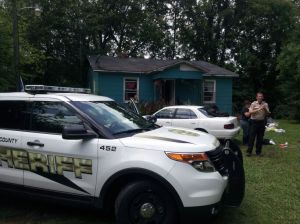 It was an issue the community had been dealing with for quite some time. Both the suspects are convicted felons.
"It has been a problem in the community," said Franklin. "It's one that's been raised with our community watch. We are very, very appreciative of the community stepping forward and helping us to help them."
Deputies also  found dogs and scabies at the scene and called in animal control to rescue them. Danville Volunteer Fire Department also helped in this case.