This is an archived article and the information in the article may be outdated. Please look at the time stamp on the story to see when it was last updated.
SOMERVILLE, Ala. (WHNT) - Huntsville Hospital confirms a 3-year-old who was found in a pool in Somerville Monday has died. Robbie Widner, one of two toddlers who apparently slipped out of the back door of the family's home on Callie Private Drive in Morgan County and later found unresponsive in the family's in ground swimming pool, was removed from life support Tuesday afternoon.
His cousin, Carter Peterson, who authorities say was "almost two years old," remains in critical condition in Huntsville Hospital's Pediatric Intensive Care Unit.
Morgan County Sheriff Ana Franklin says the two boys apparently got out of the back door unnoticed and its believed they both fell into the pool. Franklin says two relatives at the home who were watching the boys for their respective parents, told investigators they "may have been outside for a minute, maybe 30 minutes."
The frantic call for help went out around 5pm Monday afternoon. Sheriff's deputies were the first on the scene and administered CPR until relieved by responders who arrived moments later. Both boys were described as "apparently lifeless, unresponsive, with no pulse."
One of the boys was flown to Decatur-Morgan Hospital, the other transported by Crossroads Ambulance. Both were later transferred to Huntsville Hospital in critical condition. Sheriff Franklin says both boys had a pulse when moved to Huntsville.
"Anytime there's a child in trouble, these are the most difficult of calls that we respond to," Franklin said. "Those guys are both family men with their own children. It's especially hard on them," Franklin said of the two deputies who were the first of the responders to reach the children. A number of emergency personnel also rushed to the scene in an effort to help.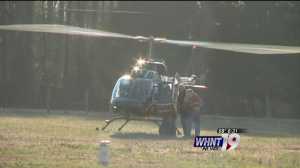 Franklin says there was absolutely no evidence of foul play and described the incident as a terrible accident.
When notified of the death Tuesday night, Franklin said, "Our hearts are broken, our prayers are with those families."
*Note: It was originally believed the boys' last names were Garcia. We apologize for the error.