This is an archived article and the information in the article may be outdated. Please look at the time stamp on the story to see when it was last updated.
MORGAN COUNTY, Ala. – A marijuana growing operation has been discovered in Morgan County. Deputies went to Morrow Mountain Road in Union Hill to check out a tip about suspicious activity in the woods on Tuesday.
Deputies found a hose pipe that led them to an opening in the woods around a 1/2 mile from the roadway, where said they discovered a large amount of marijuana growing.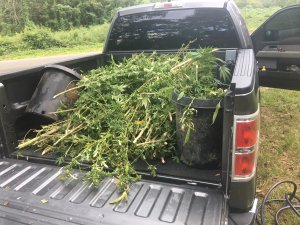 Agents with the Morgan County Drug Task Force were called to the area. Authorities found a total of 54 marijuana plants growing that ranged in size from 2 feet to 6 feet tall. Agents say there was evidence at the scene that will lead them to the people responsible for the operation.
The Morgan County Sheriff's Office says the investigation is ongoing and arrests are coming soon.