This is an archived article and the information in the article may be outdated. Please look at the time stamp on the story to see when it was last updated.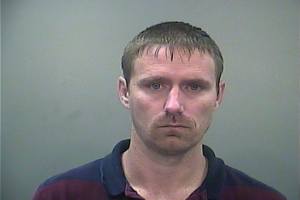 LIMESTONE COUNTY, Ala. – Tracking dogs lost the scent of a wanted man they were searching for in dense woods in northern Limestone County Tuesday evening.
Deputies suspended the search until Wednesday morning.
Members of several law enforcement agencies are looking for a man they said got into a scuffle with an officer and ran from a traffic stop Tuesday at 3:00 PM.
Officials say it happened in the Ardmore area near Sweet Springs Road and Brock Road. They are searching for 32-year-old Tony Dewayne Glover.
Officers on the scene said Glover got into a fight with a deputy during a traffic stop Tuesday afternoon. Glover ran away into a wooded area.
Authorities  deployed helicopters and K-9 units to find the man.
The unidentified deputy involved in the fight was taken to a local hospital to get checked out, but he is back home with only minor scratches, the sheriff says.
Wanted Man
Tony Glover has a long list of felony warrants in Limestone County, including  Probation Revocation Failure to Register as Sex Offender.
Officials say he will face new charges related to Tuesday's situation also.
Alabama Law Enforcement Agency records show Glover was convicted in 2009 of sexual assault and battery of a 19-year-old woman.
If you have any information or know where Glover may be hiding, call the sheriff's office at 256-232-0111.
"Tony we are not leaving" -police blasting message to wanted man on loud speaker, helicopter still searching. @whnt pic.twitter.com/G7Wii04ZgV

— Matt Kroschel (@Matt_Kroschel) March 24, 2015
The manhunt continues… This sheriff helicopter is flying just above tree level, K9 teams on the ground. @whnt pic.twitter.com/UPKhpQnmFZ

— Matt Kroschel (@Matt_Kroschel) March 24, 2015
#BREAKING: K9 teams deployed looking for a suspect who assaulted a deputy along Sweet Water Rd in #Ardmore @whnt pic.twitter.com/a8u7SCgn4F

— Matt Kroschel (@Matt_Kroschel) March 24, 2015