This is an archived article and the information in the article may be outdated. Please look at the time stamp on the story to see when it was last updated.
MOULTON, Ala. (WHNT) - New information regarding an apparent homicide in Lawrence County. Sheriff's investigators have identified the victim, but say there are still many unanswered questions.
Lawrence County authorities identify the victim as 32-year-old Jose Ruiz, of Decatur. While investigators are awaiting autopsy results to positively confirm the cause of death, it appears Ruiz was shot to death along an isolated, rural road near the Bankhead National Forrest. Hunters discovered his body late Monday afternoon.
"They recognized what they were seeing and they knew the importance of keeping the scene and holding it and getting us out there. So they did that," Lawrence County Sheriff Gene Mitchell tells WHNT News 19. Mitchell says investigators remained on the scene until after midnight, combing the ground in search for any possible clues. Plaster imprints were taken of several tire tracks near where the body was found. For now, the killing remains a mystery and the killer remains at large.
"Anything is a possibility at this point. There's nothing to narrow it down so we're having to look at the entire spectrum, until we get some evidence that leads us in a particular direction," Mitchell says.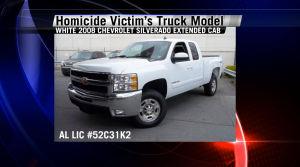 Among the evidence Mitchell says they're looking for is victim's pick-up truck. It's described as a white 2008 chevrolet silverado with an extended cab. The license is Alabama 52C31K2.
Mitchell says at this point in the investigation they need to talk with anyone who might have seen Ruiz in the past 48 hours. They'll want to know where he was, what he was doing and most important, who might have been with him. If you have any information about this case, you're urged to contact the Lawrence County Sheriff's Department.
-- Al Whitaker