This is an archived article and the information in the article may be outdated. Please look at the time stamp on the story to see when it was last updated.
MORGAN COUNTY, Ala. (WHNT) – A Morgan County Grand Jury has returned a capital murder indictment against three men accused of the murder of Jamie Travers.
Ryan Oneal Caudle, Charles Makekau, and Dewayne Hicks are charged with capital murder charges for the June 2013 burglary, attempted robbery and killing of 21-year old Jamie Travers.
According to testimony filed by Detective Michael Burleson, Caudle shot Travers with a .30 caliber rifle during the course of a robbery at Travers' residence in Decatur on June 18, 2013.
The testimony says two men entered Travers' home, one of which was armed with a long gun, and demanded money. The men pulled Travers from his bed and shot him moments later.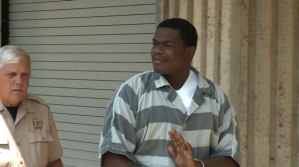 A passerby on Highway 31 discovered Travers' body near the road, about 30-yards from his residence.
Burleson said Caudle and Hicks were determined to be possible suspects in the early stages of the investigation. He learned that Caudle had acquired a .30 caliber rifle only hours before the murder. The two men were seen together an hour before the murder, according to Burleson.
In an interview with Makekau, Burleson learned that Makekau had some up with a plan for Caudle to burglarize Travers' residence on June 17. Makekau said he gave Caudle the disarm code for the alarm system and told him the location of a large amount of cash inside the residence, according to Burleson's testimony. Makekau said he was to be paid a sum of money for the information.
In his statement, Makekau said he texted Caudle at 2:00 a.m. after the burglary. Caudle responded, "I didn't get nothing, he ran."
All three defendants are being held without bond.