This is an archived article and the information in the article may be outdated. Please look at the time stamp on the story to see when it was last updated.
HARTSELLE, Ala. – Jackey Lokey started working at Evans Florist in 1975. She's owned the business for more than 25 years. She is both well-known and well-liked in her little corner of downtown on Sparkman Street.
Last Monday, she stopped in to visit with her neighbors at Copeland's Classic Cleaners. But as the 81-year-old walked the short distance back to the entrance of Evans Florist, her foot caught the edge of a parking curb and she tripped, falling face-first onto the hard parking lot.
Surveillance cameras at Copeland's Classic Cleaners show what happened next.
Within 14 seconds of Lokey's accident, a young man had rushed to her aid. When he found her shop empty, he ran to call for help. Lokey was quickly surrounded by friends and an ambulance soon came. The good samaritan, however, was gone.
Lokey says she understands if he wanted to remain anonymous. But there is something she'd like to say to him.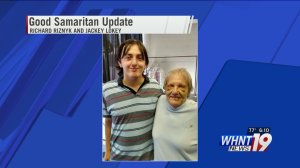 "Thanks a lot. I appreciate it very much…and oh, I'd say that I got well quick, probably. Because he got me some help out there."
After our story aired, people started recognizing the good samaritan as 20-year-old Richard Riznyk, saying "Hey Richard, that's you!"
So today, Riznyk paid a visit to Jackie Lokey at her store on Sparkman Street.
He said he was just glad to hear she was okay and  now that the story was out, thought he ought to stop in and say hi.