This is an archived article and the information in the article may be outdated. Please look at the time stamp on the story to see when it was last updated.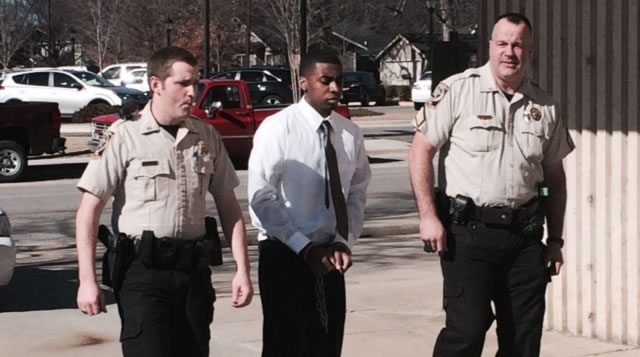 DECATUR, Ala. (WHNT) – A sentencing hearing was held Monday morning for one of three people convicted in the 2011 murders of two Krystal employees.
A judge handed down two life sentences for Ezekiel Gholston.  These will run concurrently, and Gholston does have the chance of getting parole.
Gholston was found guilty in February. Prosecutors were pushing for him to get the death penalty in the trial, but Gholston was convicted of felony murder, not capital murder, so he was not eligible for the death penalty.
The prosecution and defense called several witnesses during this proceeding, and Gholston himself.  The mother of Jesse Aguilar, one of the victims, and the widow of Jeff Graff, the other victim, were both in the courtroom.
Gholston took the stand around 11 a.m.  He apologized to both women for his role in the crime.  He looked at them several times and they stared back at him, WHNT News 19's Beth Jett reports.
"I am truly sorry for my actions that caused the loss of your loved ones.  I don't deserve your forgiveness," said Gholston.
Graff's widow became tearful.  Aguilar's mother did not show a reaction.
Gholston also told the judge he had learned to put himself in others' shoes.
Other defense witnesses called
Earlier this morning, the defense made a surprise move by calling a juror as their first witness.  Venesia Mitchell, of Hartselle, was on the jury that convicted Gholston in February.
After the trial ended, the defense contacted her to ask her questions and Mitchell started to communicate with Gholston.  On the stand today, she said she has gotten to know Gholston and says "he is truly a changed person.  Ezekiel Gholston came to know the Lord and is truly remorseful."
The prosecutor countered and asked her if she contacted victims' families, and the woman said no.
The defense also called the defendant's brother, 13-year-old C.J. Gholston, who cried during his testimony.
"He's been my role model," the teen said.  "I don't know what I'd do without him."
C.J. said Ezekiel encourages him to do well in school and that his older brother  is his number one fan.
Several people in the courtroom cried as they heard the boy's remarks.
Another juror came to watch the sentencing today.  He said he is interested to see how it turns out.  There is a row of people in the courtroom on prosecution's side and more people on the defendant's side.
Jeff Graff and Jesse Aguilar were shot during a robbery at Krystal on 6th Avenue in August 2011.
Jordaan Creque, a co-defendant, has already been convicted and sentenced to death.  Police say he was the trigger man.
A third defendant, Cassandra Eldred, pleaded guilty.