This is an archived article and the information in the article may be outdated. Please look at the time stamp on the story to see when it was last updated.
DECATUR, Ala. -- The Decatur City School Board has selected a new superintendent.  Board members voted 4 to 1 in favor of Stephen "Michael" Douglas of the Oneonta City School District.
The board held the vote at 7 a.m.  The selection is pending a contract agreement.  Board members they would pay a new superintendent up to $200,000.
[protected-iframe id="fe82d74f60d0718a7d7b6158b48f4e41-29519529-67642345" info="https://www.facebook.com/plugins/post.php?href=https%3A%2F%2Fwww.facebook.com%2FDecaturCitySchools%2Fposts%2F1511612975562264&width=500" width="500" height="161" frameborder="0" style="border:none;overflow:hidden" scrolling="no"]
Boardmember Michele Gray King voted in opposition to hiring Douglas. Board President Karen Duke tells WHNT News 19 that Douglas said Friday that he would be able to start in two weeks.
The district was in need of a new leader after Dan Brigman abruptly resigned after ten months at the helm, and named former Guntersville superintendent Dale Edwards as the interim.
The board named five finalists at a regularly scheduled meeting on June 12 and began conducting interviews the following week.
The search was narrowed to two last week, after a round of phone interviews. The other superintendent finalist, Chresal Threadgill of Elba City Schools, withdrew his application over the weekend.
Here is the text of Mr. Threadgill's letter: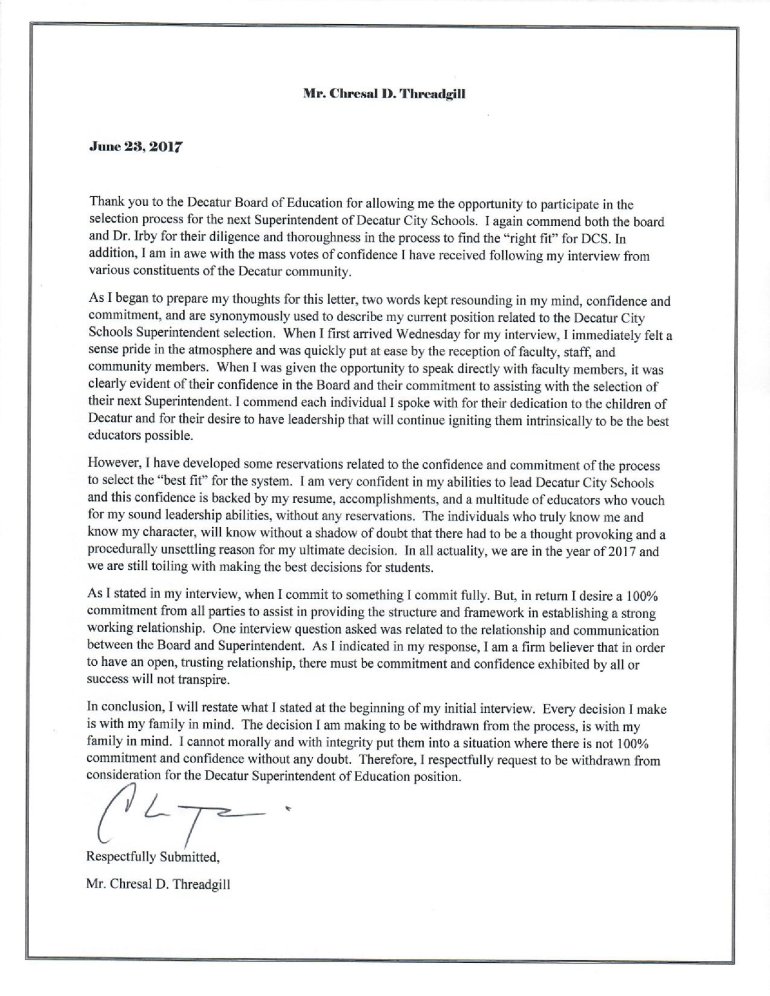 Get to Know Michael Douglas:
Ed.D. - Educational Administration - University of Alabama
E.D.S. - Educational Administration - University of Alabama
M.S. - Educational Leadership - Jacksonville State University
B.S. - Elementary Education - Auburn University
Experience:
August 2014 - Present: Superintendent of Oneonta City Schools
July 2011 - July 2014: Principal of Arab High School
July 2007 -  June 2011: Principal of Albertville Middle School
July 2006 - June 2007: Asst. Principal of Albertville High School
August 1998 - May 2006: Teacher at Yarbrough Elementary, Villa Rica Elementary, Douglas Middle, Brindlee Mountain Middle