This is an archived article and the information in the article may be outdated. Please look at the time stamp on the story to see when it was last updated.
MADISON, Ala. (WHNT) Decatur Police are firing back following a local newspaper interview in which former Crimson Tide, and current Baltimore Ravens linebacker Rolando McClain says police "arrested the wrong guy."
In the article published in The Madison Weekly News, McClain outlines what he says happened Sunday night when he was arrested by Decatur Police.
In the exclusive interview with the newspaper's Bob Labbe, McClain is quoted saying, "The situation could have been avoided on my part, but I was at the park in an attempt to keep my brother out of trouble as he said he was going to the park because some guys had spit on his car and had harassed him."
"The police were already at the park when I arrived," added McClain. "I tried to get my brother to calm down. Police thought I cussed them. It wasn't me. They arrested the wrong guy."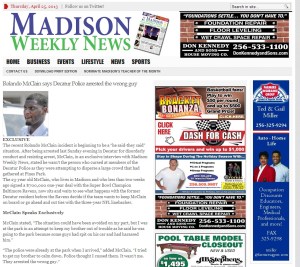 The recent Rolando McClain incident is beginning to be a "he said-they said" situation. After being arrested in Decatur for disorderly conduct and resisting arrest, McClain says he was "in tears" following the arrest. Police say he is the person who cursed at officers as they were attempting to disperse a large crowd that had gathered at Pines Park.
Decatur Police Lt. John Crouch told WHNT News 19 Thursday afternoon McClain is not painting an accurate picture of the evening he was arrested. Crouch confirmed officers were wearing body microphones and there is dash cam video of the entire encounter. Police say they will not release the video or the audio recording until the case goes before a judge.
"At no time did he (Rolando McClain) deny yelling towards the officers or did anyone in his group of friends," Crouch said. "He says he had tears while in the back of the police car, and our officers noted he was talking with them the entire ride to the jail and they did not observe tears either."
The 23-year old McClain, who lives in Madison and who less than two weeks ago signed a $700,000 one-year deal with the Super Bowl Champion Baltimore Ravens, now sits and waits to see what happens with the former Decatur resident before the Ravens decide if the team wants to keep McClain on board or go ahead and cut ties with the three-year NFL linebacker.
McClain was also arrested in Decatur in January when he was pulled over for a window tint violation. Police said McClain gave the traffic officers a false name in that incident. The former Alabama linebacker was also arrested by Decatur Police in 2011 on assault and menacing charges. The charges were later dropped.
(Information provided with permission.Click here for the entire article: The Madison Weekly Newspaper)