This is an archived article and the information in the article may be outdated. Please look at the time stamp on the story to see when it was last updated.
Decatur Police have charged Mitchell Dillan Lindsey for the murder of Bessie Louise Stovall, in Saturday's two vehicle crash. who was in a vehicle that had been stolen Friday night.
It happened just before 2 pm Saturday at the intersection of Spring Avenue and Cedar Street. Police say Lindsey was driving a vehicle he stole during a robbery Friday night, where police say he held a gun to the driver's head and demanded the car and his money.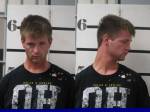 Decatur Police say due to traffic in the area and the Lindsey's erratic driving, the officers had fallen back hoping Lindsey would slow down. Because of the increased distance, the officers lost sight of the vehicle when it drove behind the Walgreen's building on Danville road.
Police say at the intersection of Cedar and Spring, Lindsey crashed into a vehicle being driven by Bessie Louise Stovall, 68, of Decatur.   Her vehicle hit a utility pole and she was killed instantly.
A neighbor helped police corner Lindsey.   At the time of his arrest, Lindsey had three outstanding felony warrants for Illegal Possession or Fraudulent Use of a Credit or Debit Card and two misdemeanor warrants for Failure to Appear.  He's being held without bond.
Bessie Stovall's funeral will be at 12 p.m. on Saturday, May 26 at First Missionary Baptist Church in Decatur.  The church is at 233 Vine Street NW.  Burial will follow at Decatur City Cemetery, in the Sterrs Addition.
The family will hold a visitation on Friday from 6 to 7 p.m. at Reynolds Funeral Home.
Yarbrough retired in 2004 from General Motors as a machine operator.  Before she died, she worked as a direct support professional for the Center for the Developmentally Disabled (CDD).