This is an archived article and the information in the article may be outdated. Please look at the time stamp on the story to see when it was last updated.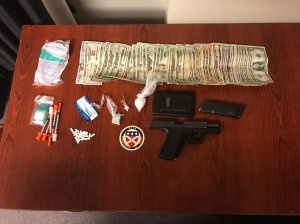 MORGAN COUNTY, Ala. – Authorities have arrested a Decatur man on several drug-related charges.
The Morgan County Sheriff's Office said deputies stopped Richard Daniel Eubanks, 38, on Wednesday. Deputies stated they smelled marijuana in his vehicle and found several items after searching it: Two black bags filled with a substance testing positive for heroin, 14 grams of a crystal-like substance testing positive for methamphetamine, numerous pills, a pistol, and drug paraphernalia.
Eubanks was taken to the Morgan County Jail, where booking officers said he had an unspecified amount of money as well.
Eubanks was charged with possession of heroin with intent to distribute, possession of methamphetamine with intent to distribute, possession of Alprazolam with intent to distribute, second-degree possession of marijuana, and possession of drug paraphernalia. His bond was set at $11,600.