This is an archived article and the information in the article may be outdated. Please look at the time stamp on the story to see when it was last updated.
LAWRENCE COUNTY, Ala. – The Lawrence County Sheriff's Office has made an arrest in a double murder that happened three weeks ago in North Courtland.
Investigators were called to the home on Rosa Parks Street on the night of July 6th to investigate the deaths of Jimmy Lee Bolding, 34, and James Lemark Madden, 41. Bolding was found dead in the front yard of the home, and Madden was found dead inside a mobile home on the property.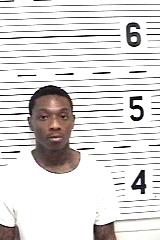 Kevin Deshaunn Deloney Jr., 19,  of Decatur, AL, and Tamorris Oneil Bolding, 23, of Muscle Shoals, are both charged with two counts of Capital Murder.
The Lawrence County Sheriff's Office told us they had persons of interest in the case, but had not announced an arrest until today. Now, investigators say Deloney and Bolding were both considered "strong suspects" in the case.
Sheriff Gene Mitchell says the department received information and evidence yesterday that allowed investigators to obtain arrest warrants for both.
Deloney and Bolden are being held in the Lawrence County Jail without bond.
Sheriff Mitchell said that he wants to thank the North Courtland Police Department, as well as the Decatur police department of their assistance with the investigation.