This is an archived article and the information in the article may be outdated. Please look at the time stamp on the story to see when it was last updated.
HENAGAR, Ala. - The new owners of the Henagar Drive-In Theatre made a controversial decision that gained international attention Friday.
The theater's owner, Carol Laney, posted on social media that they will not be showing the new Beauty and the Beast movie because of concerns about a homosexual character.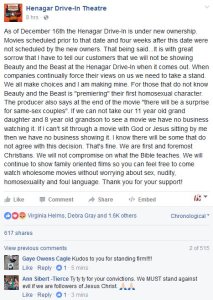 While she was careful to clarify that this is not out of hate, but dedication to Christ, some customers could not understand Laney's decision.
"You know, there may be some that stop coming," said Joey Smith, who up until the announcement had been a customer. "I'm one of them that won't come, because I'm not into promoting hate in any kind of fashion or way, even if it's something that to some may be insignificant."
Smith said it's "extremely sad," because he enjoyed coming to this drive-in.
"I can go see the movie in Fort Payne," he commented. "People [are] people, love is love, it does not matter."
Laney maintains she did not know this post was going to go viral, and she's not doing this for publicity. She said she wants moviegoers to have a family experience that reflects her religious beliefs.
"We are first and foremost Christians. We will not compromise on what the Bible teaches," she wrote.
Some customers, instead of leaving the drive-in, came to see a movie on Friday in support.
"We support her," said Melissa Ledbetter, who came to the movies after seeing negativity toward the drive-in and its owners on Facebook. "I just don't want [Laney] to feel like everybody's going to turn their back on her. We know this family, we've known them for a long time, they don't hate anybody."
Since taking over the theater, Laney works hard to make sure the movies she shows are of the quality she desires. Ledbetter likes that.
"I have twin six-year-olds and I appreciate the fact that I can take them to a movie and not have a scene that I'm not prepared for," she said. "I don't want to explain that to my children right now."
WHNT News 19 observed Henagar Police at the drive-in Friday night. Laney said they were there to keep an eye on things, since some people have written threatening or malicious messages online toward her, although she does not believe her safety is compromised.
Ledbetter added that the negativity online needs to stop.
"We can all have difference of opinion, and at some point, we've got to walk away and just agree to disagree," she explained. "[Negativity] is not helping anybody."