This is an archived article and the information in the article may be outdated. Please look at the time stamp on the story to see when it was last updated.
CULLMAN COUNTY, Ala. – Eggs from an Alabama farm are under recall after multiple people became sick after a catered event. The Alabama Department of Health and the Alabama Department of Agriculture and Industries are investigating the outbreak of gastrointestinal illness and have tied it to Gravel Ridge Farms in Cullman County.
Investigators believe the people who got sick ate undercooked food made with the eggs. Two people have been diagnosed with Salmonella Enteritidis infection. Most of those affected have recovered fully.
Salmonellosis, caused by the bacteria Salmonella, is a common foodborne pathogen. It is contracted by eating raw or undercooked eggs, poultry, milk products, and meat.
The ADPH says the symptoms include diarrhea, fever, vomiting, and abdominal cramps that can last for several days. Those at risk of severe illness include children under the age of 5 years, older adults, and individuals with weakened immune systems.
Investigators say evidence shows that Gravel Ridge Farms is the likely source of the eggs associated with the outbreak. The farm was notified and has been cooperative with the investigation.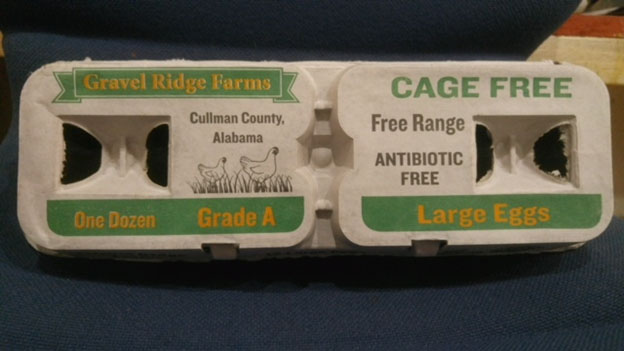 Gravel Ridge Farms issued a voluntary recall of the eggs and stopped distributing to retailers and customers.
The affected lots were sold in a single dozen and 2.5 dozen flats, with the lot code: 7-06970-38444-6,  and dated from 7/25/18-10/3/18.
Officials urge anyone with Gravel Ridge Farms eggs in their refrigerator to throw them away no matter what date is stamped on the package. Anyone with questions may call Dustin Smith at (205)363-1105, Monday-Friday between 8 a.m. and 4 p.m.
The following measures can be taken to prevent salmonellosis:
   Thoroughly cook eggs and meat products
   Wash hands before, during, and after food preparation
   Avoid raw, undercooked and/or unpasteurized foods