This is an archived article and the information in the article may be outdated. Please look at the time stamp on the story to see when it was last updated.
CULLMAN COUNTY, Ala.- A single mother and her two children lost their home in Cullman County Friday evening when an EF-2 tornado touched down.
LaShane Haynes, her infant son and her teenage daughter were inside their mobile home along County Road 1091 during the tornado. The powerful storm tore their home apart and destroyed their car.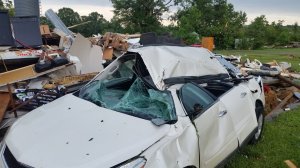 All three of them made it out with just cuts and bruises.
"A miracle. Just a miracle. God had his hand on them. Because there's no way you could look at that damage and think anybody made it out of there without being killed," LaShane's grandfather, Gerald Hardin, said.
Gerald added that the family is now out of the hospital and staying with family. There is a GoFundMe page set up for Haynes and her children. As of Sunday, people have donated more than $3,000.