This is an archived article and the information in the article may be outdated. Please look at the time stamp on the story to see when it was last updated.
JACKSONVILLE, Ala. — The legendary country music group Alabama announced Monday that the boys from Fort Payne are hosting a disaster relief benefit concert for Jacksonville State University. The school was devastated by an EF-3 tornado on March 19.
The band tweeted a poster for the concert with the hashtag; #JSUSTRONG. The concert will be Wednesday, Sept. 26. Alabama will be joined by special guests Jamey Johnson, The Charlie Daniels Band, Shenandoah, Darren Knight a.k.a. Southern Momma, and more.
The concert will take place at the Burgess-Snow Field at JSU Stadium. Tickets start at $25 and go on sale Tuesday, May 1 at 10 a.m. The net proceeds will benefit the Jacksonville State University disaster relief fund.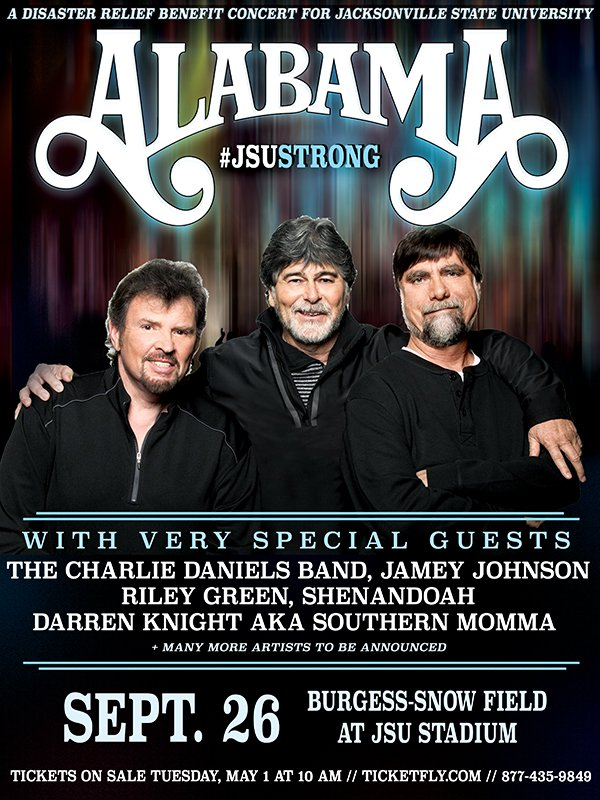 Randy Owen, the lead singer of Alabama, graduated from JSU and said in a statement that he is devoted to giving back to the community that gave so much to him.
"As a proud alumni, Jacksonville State University is not only in our home state, but also very near and dear to my heart. A tremendous amount of damage has been done to the campus that must be rebuilt and we are ready to do our part to help reconcile the devastation.

"Just as we did with the Alabama Fundraiser Concerts when the 2011 tornadoes hit, we continue to want to help. And one way we can help is to do what we do best, play music with our friends and raise money for the university repairs. When I asked my bandmates and cousins Teddy Gentry and Jeff Cook, whose wife Lisa is also a JSU alum, they were both thrilled to pitch in and help out.

"We hope all the people in Alabama, Southeastern Tennessee, and Western Georgia will help support this event by buying tickets and attending the concert. We are proud to have asked some of our special friends to join in and perform at the concert as well. Hopefully this event will help those in need and at the same time celebrate the JSU 2018 homecoming."