This is an archived article and the information in the article may be outdated. Please look at the time stamp on the story to see when it was last updated.
We've got an exciting announcement about one of our team members! Another WHNT News 19 anchor is going to be a mommy. We're thrilled to let you know Clarissa McClain and her husband DeMarco are expecting their first child.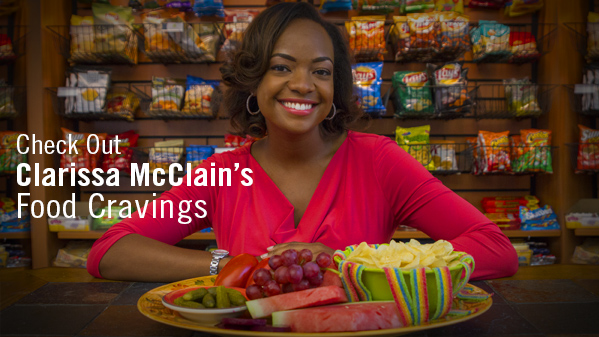 "DeMarco and I are absolutely thrilled to become parents," said Clarissa. "We both just feel incredibly grateful. We have thoroughly enjoyed our time as DINKs, Double Income No Kids, but are looking forward to adding to our family."
Clarissa and DeMarco are celebrating by paying their happiness forward. They invite you to guess the baby's gender with a fun game that includes an online donation. Vote 'boy' or 'girl' with your donation to the Food Bank of North Alabama. The minimum donation is $10, but you can increase the amount if you'd like to give more.
"I was taught to whom much is given, much is required. Like money, I also feel that it's important to use attention wisely. That's what I plan to do. The thought of babies and children in our community not having enough to eat is devastating," said Clarissa. "After joining the board for the Food Bank of North Alabama last year, I learned about a 2014 survey that revealed 59,610 children in our area are considered food insecure. That's one in four children in North Alabama. That basically means they had to skip meals, not eat for a whole day or go hungry because the parent couldn't afford more food. It literally brings me to tears because they can't control the circumstances. I couldn't sit by and do nothing. I saw the gender reveal as a meaningful way to combine the excitement of our baby coming and raise awareness and money for an extremely important cause. "
We invite you to help spread the word about this! Please use our shareable images on social media to encourage others to join in the voting and help us raise money for the Food Bank of North Alabama.
This is a very worth cause to support - the Food Bank of North Alabama helps feed more than 80,000 people in north Alabama through a network of more than 200 partner feeding programs.
The voting and online donations will be open until Thursday, August 27 when Clarissa will announce the baby's gender on air, on WHNT.com and our social media networks including Facebook and Twitter.
The gender will be a surprise for us too -- Clarissa's lips are sealed and she's not budging!
By the way, Clarissa joins two other WHNT News 19 anchors who are pregnant, Carrie Marchese and Melissa Riopka.  Both are due to deliver very soon.  Hmm... is something in the water?