This is an archived article and the information in the article may be outdated. Please look at the time stamp on the story to see when it was last updated.
HOOVER, Ala. (AP) — City leaders in Alabama met behind closed doors Tuesday following days of protests after the shooting of an African-American man by a police officer in a possible case of mistaken identity.

The Hoover City Council met privately to discuss the "legal ramifications" of pending litigation, Council President Gene Smith said. Smith didn't elaborate on any potential lawsuit. But the session comes just five days after a Hoover police officer shot and killed a man inside Alabama's largest shopping mall on Thanksgiving night.

Relatives of the shooting victim, 21-year-old Emantic "EJ" Bradford Jr., have been represented by a civil rights lawyer since his death.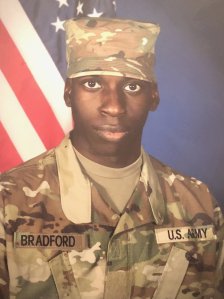 A Hoover police officer, responding to a report of a shooting in the mall, shot and killed Bradford. Police initially described Bradford as the person who shot a teen that evening. They retracted that statement and said evidence indicated Bradford was not the gunman who shot the teen and a 12-year-old bystander.
Police said Monday that Bradford had a gun in his hand "during the seconds following the gunshots, which instantly heightened the sense of threat to approaching police officers responding to the chaotic scene."
Emantic Bardford, Sr., a former longtime employee of the Birmingham Police Department jail, said his son had a permit to carry a handgun. The Alabama Law Enforcement Agency on Tuesday declined to answer whether Bradford had a permit, citing the ongoing investigation.
Questions over the shooting sparked multiple demonstrations and a push by Bradford's family for authorities to release body camera and other video footage.
The council's decision to meet privately rather than answer questions from the public angered protest leader Carlos Chaverst Jr., who vowed nightly demonstrations of Bradford's killing in Hoover, which heavily depends upon retail sales taxes for revenue.
"If we have to stop everybody in Hoover from spending another dime in this city, we will do that," Chaverst told reporters in the council chamber after members left. "We will do whatever we have to do to bring more attention, to bring more awareness and to get more justice."
Demonstrators on Monday night briefly shut down a heavily traveled highway near the mall where Bradford was killed.
A former high school classmate of Bradford, Elijah King, said his friend never would have been the aggressor in the violence even though he had a gun at the mall. King, 24, estimated that 85 percent of his young, black friends also carry weapons legally because they live in high-crime areas around Birmingham.
"I'd rather get caught with it than without it," King said. "I'm a big Second Amendment supporter."
Hoover Mayor Frank Brocato on Monday pleaded for public patience as the Alabama Law Enforcement Agency investigates the shooting.
"We all want answers and we believe with patience and focus the truth will be firmly established," Brocato said.