This is an archived article and the information in the article may be outdated. Please look at the time stamp on the story to see when it was last updated.
HUNTSVILLE, Ala. (WHNT) — "The Greatest Show on Earth" pulled into the Rocket City just before 5:00 Wednesday evening and found hundreds of people gathered in downtown to welcome the circus train.
The elephant walk started just after 7:00 PM.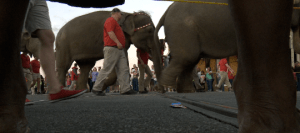 The circus will be at the VBC with shows starting Thursday.
No that was not a minor earthquake, just the @RinglingBros #elephants unloading in downtown #Huntsville #circus @whnt pic.twitter.com/odjadMwDfc

— Matt Kroschel (@Matt_Kroschel) March 26, 2015
Wow! Hundreds gather to welcome @RinglingBros circus train in @DowntownHSV ! @NicoleFeld pic.twitter.com/Y02OOqYDgx

— Matt Kroschel (@Matt_Kroschel) March 25, 2015