This is an archived article and the information in the article may be outdated. Please look at the time stamp on the story to see when it was last updated.
HUNTSVILLE, Ala. – Huntsville police are searching for a second vehicle that left the scene of a wreck with injuries near Oakwood Avenue and Brookline Drive.
Police confirm that a five year old was injured in the crash, but the extent of those injuries is unknown at this time. The child has been taken to the hospital for treatment.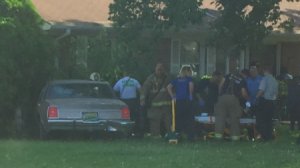 Witnesses say one of the vehicles struck a residence during the crash.
Authorities say that a black Nissan car similar to a Maxima or Altima left the scene. The vehicle is believed to be occupied by four people.
Anyone with information is asked to contact the Huntsville Police Department at (256)722-7100.
1 of 2 tweets. HPD looking for black Nissan car similar to Maxima or Altima for leaving an accident scene with injuries in Brookline Dr.

— Huntsville Police (@HsvPolice) June 14, 2017
Authorities advise that the eastbound lanes of Oakwood Avenue at Brookline Drive are closed at this time.
Please seek an alternate route.
WHNT News 19 has a crew on the scene working to gather more details.