This is an archived article and the information in the article may be outdated. Please look at the time stamp on the story to see when it was last updated.
HUNTSVILLE, Ala. — The results are in! NASA announced Buckhorn High School and UAH as the winners of their divisions in 2018 Human Exploration Rover Challenge.
Buckhorn won first place in the high school division with 84 points and UAH Team 1 won the college/university division with 61 points.
"We are so proud of this effort and their success," Madison County Superintendent Matt Massey said in a released statement. "These students work hard every day. They are challenged by exceptional teachers and mentors. Education is working in the Madison County School System," Massed added.
The competition challenges high school and college teams to design, build and test human-powered roving vehicles inspired by the Apollo lunar missions and future exploration missions to the Moon, Mars and beyond.
"It is truly inspiring to see the ingenuity demonstrated by these students and in their rovers," said Mona Miller, Rover Challenge project manager at NASA's Marshall Space Flight Center in Huntsville, Alabama. "I would like to congratulate, not only the winners, but all of the teams for their hard work. Rover Challenge is a great event and it's exciting to see the next generation of engineers and explorers on display."
The competition was held on Friday, April 13 at the U.S. Space & Rocket Center. The second day of competition was canceled due to inclement weather.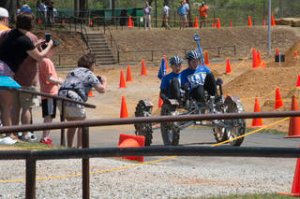 Replays of the competition can be found on here.
The complete list of award winners is provided below.
High School Division
First Place: Buckhorn High School (New Market, Alabama), 84 points
Second Place: International Space Institute (Leipzig, Germany), 66 points
Third Place: Greenfield Central High School – Team 1 (Greenfield, Indiana), 63 points
College/University Division
First Place: University of Alabama in Huntsville – Team 1 (Huntsville, Alabama), 61 points
Second Place: University of Colorado Denver (Denver, Colorado), 49 points
Third Place: East Carolina University (Greenville, North Carolina), 48 points
AIAA Neil Armstrong Best Design Award
High School Division: Parish Episcopal School – Team 1 (Dallas, Texas)
College/University Division: Universidade Federal Fluminense (Niterói, Brazil)
Technology Challenge Award
Middle Tennessee State University – Team 1 (Murfreesboro, Tennessee)
Drive Train Technology Challenge
University of Central Missouri – Team 1 (Warrensburg, Missouri)
Featherweight Award
High School Division: Buckhorn High School (New Market, Alabama)
College/University Division: University of Colorado Denver (Denver, Colorado)
AIAA Telemetry/Electronics Award
Middle Tennessee State University – Team 1 (Murfreesboro, Tennessee)
Crash and Burn Award
Rhode Island School of Design (Providence, Rhode Island)
Frank Joe Sexton Memorial Pit Crew Award
High School Division: Alfonso Casta Martinez (Manuabo, Puerto Rico)
College/University Division: University of Houston – Team 1 (Houston, Texas)
Team Spirit Award
Tecnológico de Monterrey (Xochitepec, Mexico)
Rookie of the Year Award
East Carolina University (Greenville, North Carolina)
Jesco von Puttkamer International Team Award
High School Division: CETED Centro de Tecnologia em Educação (Rio de Janeiro, Brazil)
College/University Division: Pontificia Universidad Católica del Perú (Lima, Peru)
AIAA Best Report Award
High School Division: Parish Episcopal School – Team 1 (Dallas, Texas)
College/University Division: Tennessee Tech University – Team 2 (Cookeville, Tennessee)
Educational Engagement Award
High School Division: Greenfield Central High School (Greenfield, Indiana)
College/University Division: SVKM's NMIMS Mukesh Patel School of Technology Management and Engineering (West Mumbai, India)
System Safety Challenge Award
High School Division: International Space Institute (Leipzig, Germany)
College/University Division: Middle Tennessee State University (Murfreesboro, Tennessee)