This is an archived article and the information in the article may be outdated. Please look at the time stamp on the story to see when it was last updated.
DECATUR, Ala. (WHNT) – Police in Decatur are investigating a drive by shooting that sent one man to the hospital.
WHNT News 19 was the only news crew at the scene.
The shooting happen at More Than A Haircut Barber shop.
More Than A Haircut Barber shop is located on 8th street and Danville Road in southwest Decatur.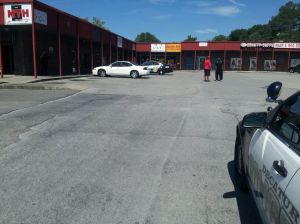 Police say a man was standing outside the business when a car drove up and began shooting.
Police tell WHNT News 19 the man was shot in the chest and taken to Huntsville Hospital.