This is an archived article and the information in the article may be outdated. Please look at the time stamp on the story to see when it was last updated.
MADISON COUNTY, Ala. (WHNT)- New Hope Police is at the scene of a fire at New Hope Furniture store.
The building is a complete loss. The store was closed when the fire started, no one was inside.
It began at around 7:30 Friday night. The Madison County Sheriff's Office reports it is fully involved.
It's located at 9737 Highway 431. Northbound and Southbound lanes on highway 431 were closed from Anderson Lane to Clown Around Fun Center. They are back open, but you are asked to use extreme caution in the area.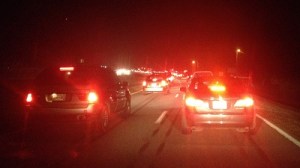 Traffic is backed up as fire crews work the scene.
New Hope Police are also on the scene.
WHNT News 19 has a crew on the way to the scene for the latest details.