This is an archived article and the information in the article may be outdated. Please look at the time stamp on the story to see when it was last updated.
MADISON, Ala. (WHNT) – A Colorado soldier facing 23 charges involving sex crimes against young girls, is now facing sexual abuse charges in Madison. 
According to The El Paso County Sheriff's Office there is an arrest warrant for Aaron Gregory Lucas, 31, on a Madison Case from 2007.  The charges on that warrant include Enticing a Child and Sexual Abuse of a Child Less Than 12 Years of Age.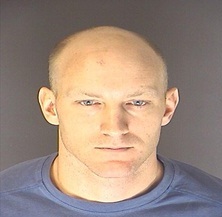 Captain John Stringer says Madison Police submitted information to the Department of Forensic Sciences in December of 2007 regarding the alleged sexual abuse case.
"Recently through CODIS, the national sex offender database, we received a hit for Aaron Gregory Lucas who was already on probation for similar crimes," explains Stringer.
Stringer says once Madison Police received confirmation through the Alabama Department  of Forensic Sciences linking DNA evidence to Lucas, they obtained warrants and were able to transfer confirmation to law enforcement agents in Colorado.
The El Paso County Sheriff's Office coordinated with authorities on Fort Carson to have Lucas located and taken into custody.  He has been booked into the Criminal Justice Center on no bond as a Fugitive from Justice.
Lucas is scheduled for advisement from the court on Thursday regarding bond.
Our news partner, KKTV, confirmed in November that Lucas was back on duty at Fort Carson.
Lucas, 31, faces charges of kidnapping, sexual assault on a child, enticement of a child and indecent exposure in Colorado.  The crimes allegedly happened in the Fountain, Colorado Springs and El Paso County areas of Colorado.  Lucas is stationed at Fort Carson.
Several agencies say Lucas exposed himself and lured, or attempted to lure, several young females, under the age of 12, to commit sexual acts with him.
Court records show Lucas is free on $730,000 bond. An Army spokesman told KKTV Lucas is back on duty at Fort Carson and that officials are taking legal and prudent measures to ensure public safety.
The Fountain Police Department said as its investigators looked into the case, they learned other agencies were also looking into the same type of offense, including the Colorado Springs Police Department and the El Paso County Sheriff's Office.
Due to the number of incidents, the agencies formed a task force, which also included the Fourth Judicial District Attorney's Office and the U.S. Army Criminal Investigations Division.
The task force compared the details of each case, and said these showed Lucas had been involved in a pattern of sex offenses involving young girls dating back to the summer of 2010 when he arrived in Colorado and was stationed at Fort Carson.
The El Paso County Sheriff's Office said two specific incidents came to light.  On June 19, 2012, their office responded to a report of a child abduction in Stratmoor Valley.  A 9-year-old girl had been forced into a vehicle driven by a white, bald male.  The man dropped off the girl a short time later in a nearby neighborhood.  A friend of the girl witnessed this.
On October 16, 2012, the El Paso County Sheriff's Office responded to the Stratmoor Hills area on a report of enticement of a child.  A 7-year-old girl said a white male approached her as she was walking home from school.  Investigators say the suspect made a sexual reference and grabbed the girl's hand.  She was able to get away, though, and ran home.
The girl described the suspect as a skinny, bald, white male, approximately 5'10″, and between 30 to 40 years old.
One man said Lucas attempted to approach his two young daughters earlier this year, asking the girls if they wanted ice cream.
"They all know how to pretty much come check with Dad and Mom you know, before they do anything," said the concerned father. "When they did come up to check, he [Lucas] was pretty much gone
After the joint investigation by the task force, Aaron Lucas was arrested.  
Captain John Stringer says the case is a perfect example of the connectivity of law enforcement across the country.
"Using the national crime information computer database and the CODIS which is DNA evidence, all of your sexual and offenders and certain felony offenders have to submit DNA samples now and that helps us to be able to track them," says Captain Stringer. Without that kind of information we may never have been able to identify the offender in this case .