This is an archived article and the information in the article may be outdated. Please look at the time stamp on the story to see when it was last updated.
DURHAM, N.C. — A North Carolina man couldn't hide his grin as he slowly began to see his wife for the first time in 33 years.
It was all thanks to a new, bionic eye.
According to a Duke Medicine blog post, Larry Hester, 66, has been blind for half his life from a condition called retinitis pigmentosa.
At the time, the degenerative disease that would rob his sight was poorly understood, and there were no known treatments.
But on Oct. 1, 2014, Hester became the seventh person in the United States to have a so-called bionic eye, an Argus II Retinal Prosthesis Device, activated as a visual aid to send light signals to his brain.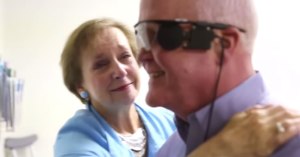 As Duke eye surgeon Dr. Paul Hahn activated Hester's new bionic eye, Hester became startled.
"Yes!" he said, seeing a light for the first time since he became blind 30 years ago. "Oh my goodness. Yes!"
His wife, Jerry Hester, was so excited that she wanted to kiss him right away.
While the device does not restore vision in the normal sense, it provides light-and-darkness differentiation.
Using wireless technology, a sensor is implanted in the eye to pick up light signals sent from a camera mounted on special eyeglasses, which Hester will wear.
Hahn said the device will provide a visual aid that could help Hester distinguish a door from a wall, or a crosswalk painted in a roadway.
"I just wonder how I have been so lucky," he said. "Why me? But if I can use what I learn from this to help others with RP, it will not just be for my benefit."
Source: Dukemedicine.org