This is an archived article and the information in the article may be outdated. Please look at the time stamp on the story to see when it was last updated.
HUNTSVILLE, Ala. (WHNT) – For most women, the modern hospital birthing experience consists of fetal monitoring, access to the latest technology and close proximity to doctors.  In most cases, things go smoothly. Sometimes, there's a dangerous twist.
Chris and Brigette Honey came to Huntsville Hospital expecting a smooth C-section delivery of twins.  Instead, Brigette developed a dangerous complication – amniotic fluid embolism.
"It happens to one in 80,000 births," Chris explained, "[There's only] a 20 percent survival rate."
Although her babies were healthy, doctors struggled to stabilize Brigette's blood pressure and she ended up needing emergency surgery.
"I was just so tore up," Chris said of the moment. "I was just worried about her and I spent most of my time by her side."
Jennifer Brewington, with Huntsville Hospital for Women and Children, said it's stories like this that show the importance of birthing in a hospital setting.
"We try to have the latest technology, the best physicians and specialized training for our nurses."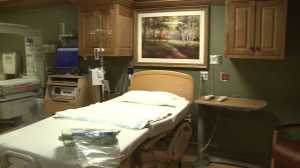 At Huntsville Hospital there's also a Regional Neonatal Intensive Care Unit - or (R)NICU - so if something goes wrong in delivery, baby doesn't have to travel for immediate, specialized care.
"March of Dimes says 10 to 15 percent of babies will require a NICU so we think it's very important," Brewington said.
Of course, most deliveries are uncomplicated, so WHNT News 19 asked for a tour of Huntsville Hospital and the "modern" hospital experience for a new mom. It goes something like this: Check-in, time in a triage room for labor confirmation, then movement to a labor suite for monitoring, labor and delivery.
Moms are usually attached to a fetal monitor where the baby's heart-rate can be watched. They also typically have access to a range of pain relief options including an epidural.
For those wanting a more natural route, many hospitals including Huntsville offer bathtubs or showers for laboring.  A doula is also allowed. Doulas are hired "labor coaches" skilled with tools like birth balls and massage to help moms through the pain without drugs. They can be certified through several different organizations including DONA International.
"Sometimes even if you have a great childbirth class and done all of your education," explained Wendy Robertson, a local labor doula with years of experience, "When you're the one that's in the middle of the labor process you forget some of those things."
In an attempt to create a more family-oriented experience, some hospitals including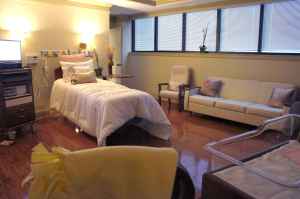 Crestwood Medical Center offer specialized rooms. Crestwood claims to have the only LDRP (or Labor, Delivery, Recovery, Postpartum) units in Madison County - which recreate a home-like environment with "comfortable furniture, plentiful seating, hardwood floors, and soft decor."
All hospital policies are different, so hospital officials encourage moms to talk with their doctors about creating any kind of birth plan - whether it involves a doula, or specific requests for the birth experience - ahead of time.
"Whatever the physician is comfortable with, we try to support," Brewington said.
For the Honey family, no amount of planning would have changed their frightening experience and that's the reason they can't imagine having another baby out-of-hospital.
To learn more about Huntsville and Crestwood, as well as doulas, explore the links below:
Huntsville Hospital for Women & Children
Click here to learn about facilities and amenities for laboring moms and families
Click here to learn about Huntsville Hospital's advanced (R)NICU
Click here to learn more about tours and childbirth classes including those on C-sections and breastfeeding
Click here to learn more about the Maternity Center, tours, and LDRP rooms
Click here to learn about free pre-natal classes including breastfeeding and a "Daddy Boot Camp"
Doula Education
Click here to visit DoulaMatch.net - a website that helps you search for doulas in your area (if you find one you like, make sure to ask for credentials, experience and certifications!)
Click here to visit DONA International and learn more about what a doula does, as well as training
If you missed any of our Birth Options stories, including those on The Farm Midwifery Center and home birth with a midwife, click here to learn more.